Instant Knockout vs Hourglass Fit – Which One Holds the Most Potent Fat-Cutting Power?
Allen Hicks
Instant Knockout vs Hourglass Fit – Which Is The Best Fat-Cutting Supplement?
If you've been looking for a fat burner to shed off those extra pounds, you must have come across these two fat cutting pills.
And because you're here, most certainly you're not sure which one is the right one for you.
Well, today we've come up with a thorough Instant Knockout vs Hourglass Fit Reviews to help you finally find the best fat burner.
First up, we've Instant Knockout, the fat burner designed to meet the cutting goals of athletes and pro fighters.
To put it precisely, it does exactly what its name suggests, instant results to knock out the extra fat build-up.
Whereas…
Hourglass Fit is the fat shredding supplement centered on women.
It's designed with the sole purpose of offering the curvy shape women often dream of but without the extra bulk.
Both weight loss supplements look promising, right?
But that's not what this write-up is about.
What we're going to be focusing on today is analyzing both these fat burners to find the main distinctions between them.
So, you as a consumer, make a well-informed choice. Without much ado, let's get right into the details.
Meanwhile, you can take a look at
Instant Knockout Official Website – www.instantknockout.com
Hourglass Fit Official Website – www.hourglassfit.com
Instant Knockout vs Hourglass Fit – Supplement Facts Comparison
Before getting into extensive details about these fat burners, it's probably better to have a brief idea about what they stand for.
In this segment, we will pit Instant Knockout against Hourglass Fit to find out their unique aspects.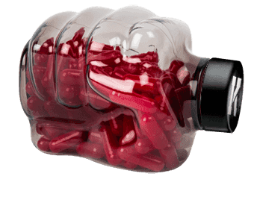 Athletes and those wanting to shred fat for sharper muscle tone
● Cayenne pepper
● Glucomannan
● Green tea
Promotes intense fat burn through fastening thermogenesis and metabolism
● Ramps up metabolism
● Enhances energy levels
● Suppress appetite
● Lean muscle mass development
● Improves workout performance
Mild for those sensitive to caffeine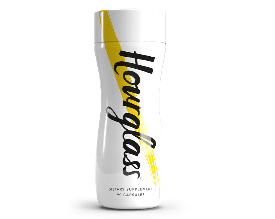 Women wanting to look slim and fit
● Green tea
● Guarana
● Cayenne
Burn fat build-up without using excessive stimulants

● Puts a full stop at cravings
● Increases energy
● Toned arms
● Cinched belly size
● New confidence and positive mood
Well, this was a brief look into what the supplements are supposed to do for you. The above Hourglass Fit vs Instant Knockout comparison clearly shows the fat burners differ quite a bit.
Thus, in the next sections, we'll be detailing all these factors in detail to find the better fat-burning formula.
To start with, some of the prominent things that should factor in your decision to pick the best fat burner are:
The composition and its efficacy
The uniqueness of the formulation
Long-term weight loss benefits
Safety and side effects
Real users experience after using the fat burner
Cost-effectiveness
So, for comparing Hourglass Fit vs Instant Knockout, we will analyze these factors one by one putting the fat smasher's side by side.
Instant Knockout vs Hourglass Fit – Which Has a Better Formulation?
The composition of a fat burner is always a key determinant in buying decisions.
It's a given you need to pick a weight loss pill that doesn't hide behind a generic composition.
Well, the fact that neither Instant Knockout nor Hourglass Fit Fat Burner uses a proprietary blend is reassuring.
This speaks of the makers' transparency in promising only what they can deliver. And the best part of this all is all the ingredients will be listed right there on the bottle for you to check out individually.
Moreover, the core focus of comparing Instant knockout vs Hourglass Fit Composition is to find out what are the similarities and the differences.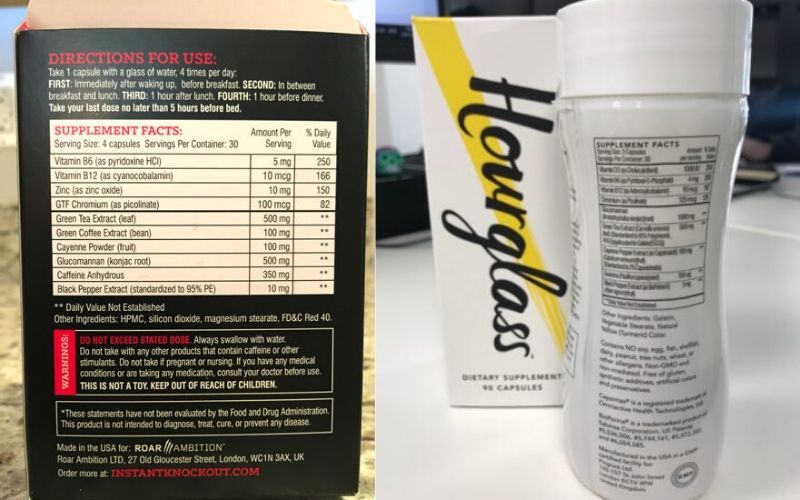 Instant Knockout Ingredients – Fat Cutting Science for Instant Results
Instant Knockout works on the single premise of enhancing the body's fat-burning potential by using stimulating components.
These work at fueling the energy levels to trigger fat cells. Thus, resulting in calorie burn and hitting the stubborn fat stored in different parts of the body.
Further, for producing the desirable effects, Instant Knockout makes use of different thermo-burn and metabolism-boosting compounds.
Some most notable Instant Knockout Ingredients include:
Green tea extract
Caffeine anhydrous
Green coffee bean
Cayenne pepper
Besides these, there are vitamins and minerals used primarily to support muscle retention while losing the extra fat build-up.

Well, this was a short sneak peek into the Instant Knockout formula. Let's have a look at where Hourglass Fit stands in terms of its make-up.
Hourglass Fit Ingredients – Proven Formula Designed for Substantial Weight Loss
The main criterion that separates the Hourglass Fit Supplement from the competition is the use of mild ingredients.
In fact, many Reviews of Hourglass Fit comment on how the fat burner helps lose weight without sudden energy crashes.
Furthermore, the most common culprit behind sudden weight gain is eating way more than required. Women are especially guilty of this due to hormonal spikes and lows.
Hourglass Fit helps put a stop at hormonal eating by using fiber-rich compounds such as glucomannan to keep you full.
Other ingredients in the fat burner responsible for groundbreaking Hourglass Fit Results are:
Capsimax®
Green tea extract
Bioperine®
Guarana

Well, after this quick snapshot of Instant Knockout vs Hourglass Fit Ingredients, we're going to have a real look into what these supplements share and how they differ.
Here's what we find after thorough analysis…
| | | |
| --- | --- | --- |
| Common Ingredients | Instant Knockout | Hourglass Fit |
| Vitamin B6 | 5mg | 4mg |
| Vitamin B12 | 10mcg | 10mcg |
| Chromium (as picolinate) | 100mcg | 125mcg |
| Green Tea Extract | 500mg | 500mg |
| Cayenne | 100mg | 100mg |
| Glucomannan | 1800mg | 1500mg |
| Black Pepper Extract | 10mg | 5mg |
Curious about what these ingredients can do for your weight loss goals?
Check out this detailed explanation.
#1. Vitamin B6
It has a multi-dimensional role in helping fat oxidation, boosting calorie conversion into energy, and muscle mass increase.
So, with Vitamin B6, you will be getting a tight punch of fat-burning benefits while building a muscular body.
Both Instant Knockout and Hourglass Fit have enough of the nutrient.
#2. Vitamin B12
Vitamin B is going to be immense support in breaking down fatty acids and accelerating protein synthesis.
So, on one hand, you're burning fat cells. While, on the other hand, your body is getting ready to balance out the muscle-to-fat ratio.
Instant Knockout and Hourglass constitute this ingredient at the same dosage. So, the effects are going to be similar more or less.
#3. Chromium Picolinate
The trace mineral allows your body to better manage the calories you eat. Basically, Chromium helps regulate blood sugar levels. So, it becomes easy for you to not feel the need to snack in between meals.
Hourglass has a better dosage but Instant Knockout also has enough of the nutrient to show results.
#4. Green Tea Extract
This antioxidant-rich plant is known for raising metabolic speed. And we all know a fast metabolic rate translates to better conversion of stored calories into energy.
Instant Knockout and Hourglass Fit utilize the powers of green tea by including it at a serving size of 500mg.
#5. Cayenne
This is the most common ingredient we see in fat burners. And the obvious reason is its rich concentration of capsaicin, a bioactive responsible for improving metabolism.
Instant Knockout and Hourglass Fit include this natural compound to boost the fat-melting power of the formula.
#6. Glucomannan
The use of glucomannan in fat burners makes sense. As the plant-based ingredient is very rich in fibre. And fibre means less cravings and better control over diet.
Instant Knockout has a better dosage indicating it may help more in terms of controlling overeating. Though, Hourglass Fit also has enough of the nutrient as per daily dose.
#7. Black Pepper Extract
It helps trigger thermogenesis to burn existing fat. Plus, the compound can suppress fat cell accumulation leading to a tight grip on further weight gain.
Instant Knockout and Hourglass Fit use the ingredient to boost up the power of the entire composition.
Apart from these commonalities, here is what we find specific about these fat-shredding pills.
Hourglass Fit vs Instant Knockout – What's Unique About Them?
Well, in the fight of Hourglass Fit vs Instant Knockout, it's important to take note of the differences in composition.
This is where we can find if one formulation is better than the other.
Here's what you need to know…
#1. Instant Knockout Exclusive Ingredients
Zinc (10mg) – Decreases fat levels and bumps up the lean mass ratio in the body composition
Green coffee extract (100mg) – Slows down the rate of fat absorption from food
Caffeine anhydrous (300mg) – Heats up the body and increases nervous system alertness to heighten the rate of fat burn.
#2. Hourglass Fit Exclusive Ingredients
Vitamin D3 (1000IU) – Supports healthy body weight and prevents obesity
Guarana (100mg) – Wards off fatigue and enhances physical endurance helpful for workouts
So…
Instant Knockout vs Hourglass Fit – Which is Worth Taking a Chance?
Both these weight loss pills have excellent make-up based on logic and robust research into the present scientific literature.
Considering the above Hourglass Fit vs Instant Knockout formula comparison, here's everything we observed:
Almost every common ingredient is dosed at similar amounts
Instant Knockout has a better concentration of the fiber-rich compound, glucomannan
Equal amounts of green tea extract and cayenne indicate equal efficiency in ramping up metabolism
Vitamin concentration is almost similar helping to get the most out of workouts while burning body fat
Chromium in both the supplements is enough to help regulate blood sugar levels
Instant Knockout is centered around muscle mass plus fat loss
Hourglass Fit is designed to prevent obesity and help women achieve their ideal body shape
It's a draw!
Both these supplements have made use of the best ingredients to hit their target demographic.
So, make your choice based on your goals.
Now, let's have a look at the benefits as it's the main factor that's going to make or break your purchase decision.
Instant Knockout vs Hourglass Fit – Benefits of the Fat Burners
Well, a fat-burning supplement is made to burn stubborn body fat and help you shed extra weight.
But we already know that!
So, the main focus of this section is going to be finding out the unique benefits these fat burners can offer you.
Let's base this segment on the basis of Hourglass Fit and Instant Knockout Reviews for finding the real results you can expect.
Instant Knockout Benefits
Instant Knockout Fat Burner has some potent properties with immense potential to shape up your body.
So, you can expect toned abs, arms, and shapely frame after hitting your weight loss goals with Instant Knockout.
Here are the benefits that Instant Knockout can offer you:
#1. Increase in muscle-to-fat proportion – Instant Knockout Results show users not only lose the extra bulk but also end up increasing muscle size.
#2. Better Workouts – The Ingredients in Instant Knockout enhances the energy levels and stamina to boost your workout sessions. Thus, helping with rapid weight loss.
#3. Thermogenic Booster – Instant Knockout in and itself is a fat cutting machine because of its optimal caffeine content. This keeps the body in alert mode and reduces fatigue in users.
#4. Useful as a cutting supplement for bodybuilders – Instant Knockout can be of great help to men and women looking for a supplement to lose fat while retaining lean mass they gained while in their bulking phase.
By offering these benefits, Instant Knockout really makes itself known as a multi-purpose pill.
It not only transforms your body in terms of weight loss but also yields a more toned physique.
Hourglass Fit Benefits
Hourglass Fit has helped numerous women get the body of their dreams.
As a result, it is becoming the go-to solution for women who are in a hurry to lose weight for their weddings or some other occasion.
Here are the most notable benefits based on Hourglass Fit Fat Burner Reviews:
#1. Better control over diet – The fat burner puts a snooze button at overeating and cravings. Plus, it also helps you feel less irritated while on a low-calorie diet.
#2. Lose weight while preventing weight gain – Hourglass not only lowers the numbers on the scale but also keeps it from getting higher. How? By lowering the number of extra calories you crave.
#3. Drop down the belly fat – Most women want to cinch their waist to appear more feminine. So, women who gain belly size during pregnancy will find the supplement especially useful.
#4. Increases energy – Hourglass Fit has just the right amount of stimulants in the form of caffeine in guarana and green tea extract. This helps keep you active without feelings of nausea associated with over intake of caffeine.
Thus, Hourglass Fit seems to be just the perfect fat burner for not only women but men as well who might be looking for a milder composition.
So, Hourglass Fit vs Instant Knockout – Which Fat Burner will Help You Reach Your Goals?
This round is going to be a draw as both these pills have shown to work effectively.
The only difference is in the RESULTS!
Choose to buy Instant Knockout if you're an athlete or want muscle mass increase. Otherwise, Hourglass Fit is enough for substantial weight loss.
Now, on to the most important question.
Is Instant Knockout Safe? And is Hourglass Fit free of any potential dangers?
Due to these being OTC fat burners, it's important to check if the supplements are completely safe to take on a consistent basis.
Instant Knockout vs Hourglass Fit Side Effects – How Safe Are These Supplements?
We don't find any red flags in particular when comparing Hourglass Fit vs Instant Knockout.
However, after taking a look at the entire composition, we have summed up our findings in the following segments.
Have a look before you buy any of these fat-burning champions!
Instant Knockout Side Effects – How Safe Is It?
Some Instant Knockout Users report feeling a little jittery at first. But soon their body adjusts to the fat burner and the results start coming in.
Well, the feeling of jitteriness can be a common occurrence with first-timers as their body adjusts to the supplementation.
Otherwise, people don't report any side effects, especially when they follow the Instant Knockout Directions for Use.
Here is the Instant Knockout Dosage pattern you should be following to avoid side effects:
Follow a 4 pills per day dose – in the morning, before lunch, in the afternoon, and before the evening meal
Keep a gap of 3 hours between each dose
Take the last dose about 5 hours before going to bed
Consult a healthcare professional before taking Instant Knockout if you're caffeine sensitive.
Now, let's find out if Hourglass Fit has any side effects you should be aware of.
Hourglass Fit Side Effects – Is It Really Safe?
Hourglass Fit is considered to be a very safe formulation due to the absence of anything artificial in it.
It has no soy, artificial flavor, colors, or other common allergens.
Furthermore, the entire formula is fairly mild considering it's made for women. The only case where there can be potential side effects is when you take more pills than advised on the bottle.
Here are the Hourglass Fit Dosage instructions you should be following to avoid undesirable reactions:
Follow 3 pills per day dose – in the morning, at lunchtime, and with the evening meal
Each dose with a full glass of water
Well, the serving size has been designed in such a way that the body has enough time to assimilate the nutrients properly.
Furthermore, people already on some kind of medication or those with medical history are strongly advised to consult their doctor before taking any of these fat burners
So, Instant Knockout vs Hourglass Fit – Which Formula is Safer to Take on a Daily Basis?
When it comes down to side effects, there are no known cases of reactions with existing users of both the fat cutting pills.
However, we are obliged to say that Hourglass Fit does seem like a milder formula. So, people susceptible to allergies are better off with Hourglass Fit.
Though, for the sake of argument, comparison of Instant Knockout vs Hourglass Fit has, thus far, proved both these weight loss pills are safe.
Especially, when the users are strict with the dosage instructions.
But what do real customers actually say after months of supplementation?
Do they consider the supplements to be as safe as they seem on paper?
Jump to the next section to find the details.
Hourglass Fit vs Instant Knockout Results – What Do Users Say?
Instant Knockout Before and After Results
Instant Knockout has been used by both men and women. And the results have shown it to be effective for both the genders.
Before we move forward with the real Instant Knockout Results, have a look at some of the Instant Knockout Results Before and After pics.
Instant Knockout Before and After Pictures
Well, these transformations speak a lot about this fat burner's efficacy.
In pictures, users have not only lost weight but Instant Knockout has helped them uncover muscle mass that's often hidden beneath layers of accumulated fat.
The most common changes are better-looking abs and muscular arms.
Though, many users have also reported seeing changes in their diet plans and eating habits that obviously are not visible through these pictures.
Here are some Instant Knockout Testimonials:
Name: Lukas
Result: Got ripped within 3 months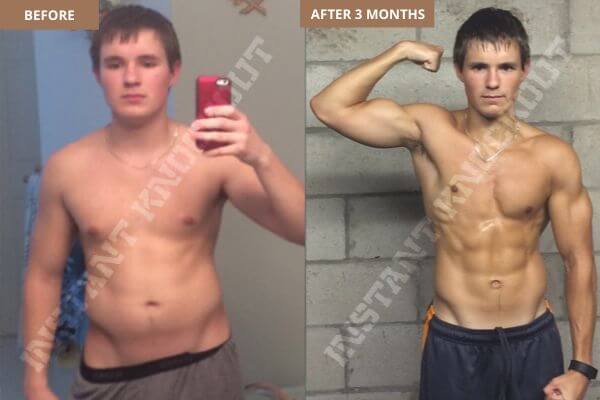 Instant Knockout helped me keep up with a healthy diet plan and I keep using it along with gym sessions. And none of the fat burners I've tried come anywhere near close to the results I got with Instant Knockout.
My current diet is usually full of proteins and vitamins. After about 3 months of consistent use, I've managed to get shredded like never before.
Name: Jordan
Result: Lost weight
While I was eating healthy and exercising, there were no results. That's when I decided to incorporate a fat burner into my routine and I'm so glad I did take that decision.
After starting to use Instant Knockout, I constantly feel more powered up for workouts and have managed to lose the stubborn fat just within the 2 months mark.
Well, these Instant Knockout Customer Reviews are impressive, to say the least.
Needless to say, as we're comparing Instant Knockout vs Hourglass Fit, it's important to weigh both sides of the equation.
So, let's find out if Hourglass Fit measures up to the effectiveness of Instant Knockout.
Hourglass Fit Before and After Results
Well, the Hourglass Fit customer reviews are literally filled with happy faces of women showing off their new bodies.
What else could we say?
It seems like the fat-cutting formula really delivers what it promises.
Further, here are some of the Hourglass Fit Before and After Pictures showing the real change women see.
Hourglass Fit Before and After Pictures
These results show women have regained their confidence after losing their weight and feeling more like themselves.
Moreover, the users comment on the supplement's effectiveness at helping to reduce waist size within weeks.
Here are their Hourglass Fit Testimonials in their own words:
Name: Michelle
Result: Reached weight loss goal in 12 weeks
I just wanted to put off those extra pounds for my wedding day. And I know I needed a helping hand along with my diet and exercise plan as I was extremely short on time.
Luckily, I found Hourglass and managed to put off weight before my wedding day. So, if you want fast weight loss, my advice to other women would be to consider Hourglass Fit.
Name: Charlotte
Result: Lost post-baby bump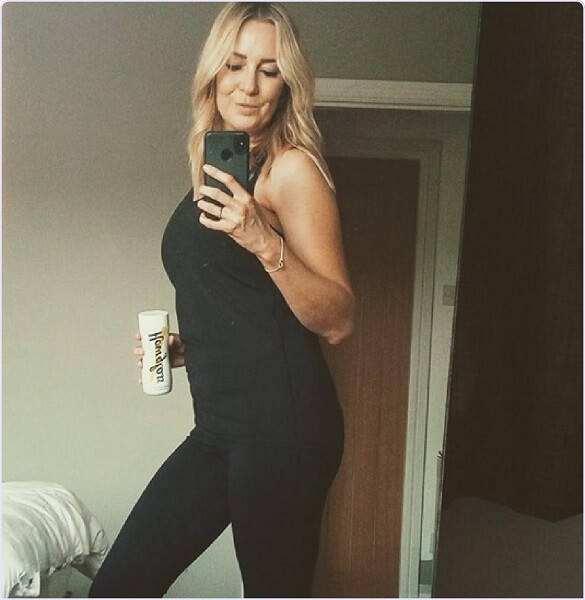 I struggled to lose baby weight after having my second child. That's when I began researching supplements and came across Hourglass Fit.
I couldn't believe how I managed to see changes within weeks. I'm so glad I took the leap.
Highly recommend this supplement to other women who are also struggling to reduce belly fat."
Well, just like Instant Knockout, Hourglass Fit also garners the attention of women from all over the globe.
So far, when it comes to comparing Instant Knockout vs Hourglass Fit real results, we've nothing but good things to say.
So, which one should you be choosing?
Well, go with either one and you'll see results.
Yes, seriously!!
Both these fat burning pills have proven their mantle in the weight loss industry. And after checking through the Instant Knockout and Hourglass Fit Customer Reviews, we've no doubt over their efficacy.
Now, the last aspect before choosing any fat burner is to look into the cost-effectiveness and if these weight loss solutions are budget-friendly.
Instant Knockout vs Hourglass Fit – Cost and Value
Are you wondering Where to Buy Hourglass Fit and Instant Knockout at the best deal prices?
Here are all the answers you would need to make your purchase decision.
To any country on buying Ultimate Shredding Stack
90 days on the selected pack
To the US and UK on buying 2 months supply
90 days on the selected pack
NOTE: Don't buy any of these fat burners from third-party sites to avoid losing your money as no third-party retailer, such as Amazon, GNC, Walmart, or eBay are authorized to sell these supplements.
Instant Knockout Price and Package Options
One Month Supply- 1 Bottle of Instant knockout cost you $59.
Two Months' Supply – 2 bottles of Instant Knockout + Free delivery in the USA & UK = $118
Ultimate Shredding Stack – 3 bottles of Instant Knockout + 1 free bottle + Free worldwide delivery + Money Back Guarantee = $185
Hourglass Fit Price and Package Options
One Month Supply – 1 bottle of Hourglass Fit containing 90 capsules cost you $30.00
Two Month's Supply – 2 bottles of Hourglass Fit containing 180 capsules plus FREE US & UK delivery cost you $55.00
Well, Instant Knockout and Hourglass Fit Fat Burner have taken care of the varied requirements of different customers.
These packages are available right from the official site with a quick checkout process.
Take your pick based on your budget. Though, we do recommend buying more to save more.
So…
Hourglass Fit vs Instant Knockout – which one is offering a deal worth grabbing right away?
The title of the cost-effectiveness goes to Hourglass Fit fat Burner through and through because of its low price point.
Comparing Instant Knockout vs Hourglass Fit, it's quite apparent you can get at least two bottles of Hourglass Fit for the price of one Instant Knockout Bottle.
Though, here's something you should consider as well…
Instant Knockout does have more capsules per bottle and it also offers freebies on its largest pack. So, that's something to keep in mind before placing your order for either of these fat smashers.
So, did you make your pick?
Which of these are you going to choose?
Instant Knockout vs Hourglass Fit – Final Recommendation
From this analysis, one thing that's certain is you can choose to go for either of the fat burners and still manage to get results.
But here's our take…
Who Should Choose Instant Knockout?
Men and women wanting to get ripped
Bodybuilders looking for a cutting supplement
Those preparing for an athletic competition
People with some extra dollars
Whereas…
These people are better off with Hourglass Fit:
Those looking for fast weight loss
People interested in a supplement free of soy and gluten
Folks with acute caffeine sensitivity
Who have a limited budget
So, match up your needs and preferences with the above recommendations, pick the fat burner of choice, and get on with your weight loss journey.
Stop wasting any more money on worthless weight loss solutions without any evidence.
Just put your weight loss woes to rest once and for all with the help of a superior fat cutting formula.
Well, we hope this Instant Knockout vs Hourglass Fit comparative piece was of use to you.
Drop your comments and queries right below to let us know which fat burner you end up using?
Still can't decide which fat burning pill is the one for you? Jump to the comparative table to have a final look over!!