Megan Thee Stallion Amazes Instagram With Her 3-week Transformation
Allen Hicks
Amid the popularity of the "Hottie Bootcamp" series on Instagram, Megan Thee Stallion rings the new year with a new body.
The 25-year-old goddess of the rap world has always donned an attractive and inspiring body.
But her recent health makeover journey has got her fans drooling and whole Hollywood watching!
Megan Thee Stallion has been on a weight loss journey since the end of winter working on her body goals!
When she first announced her Instagram series, "Hottie Bootcamp" she was clear about her intentions of not weight loss but a health journey.
According to sources, she was reported explaining her series by saying
It's not necessarily a weight loss journey, but rather a health journey. The things I've been eating are not so good for my body and have been slowing me down.
She also added that she was documenting her process on Instagram to make sure that she holds herself to her new routines. People who are already following her social handle, know-how her videos highlighted her changes in diet.
Some of these videos also showed her trainer Tim shopping for Megan's healthy diet!
According to Tim, "The most important part of the Hottie Bootcamp is Eating Right!"
Tim was also reported sharing some of the recipes that Megan used for her Hootie Bootcamp series.
And now almost three months after launching the camp, the Grammy-Winning rapper is all chirpy about her partial success.
Well, if you have already been sticking with her social handle you know how regular she is with her workouts and diets.
To give you a summarised update of all of her workouts and diet plans, here is the following blog!
MEGAN THEE STALLION SHOWS OFF HER 3-WEEK BODY TRANSFORMATION
On social media, in a series of swipes, Megan shows off her toney body. She shared before and after pics, giving fans the real her.
Take a look: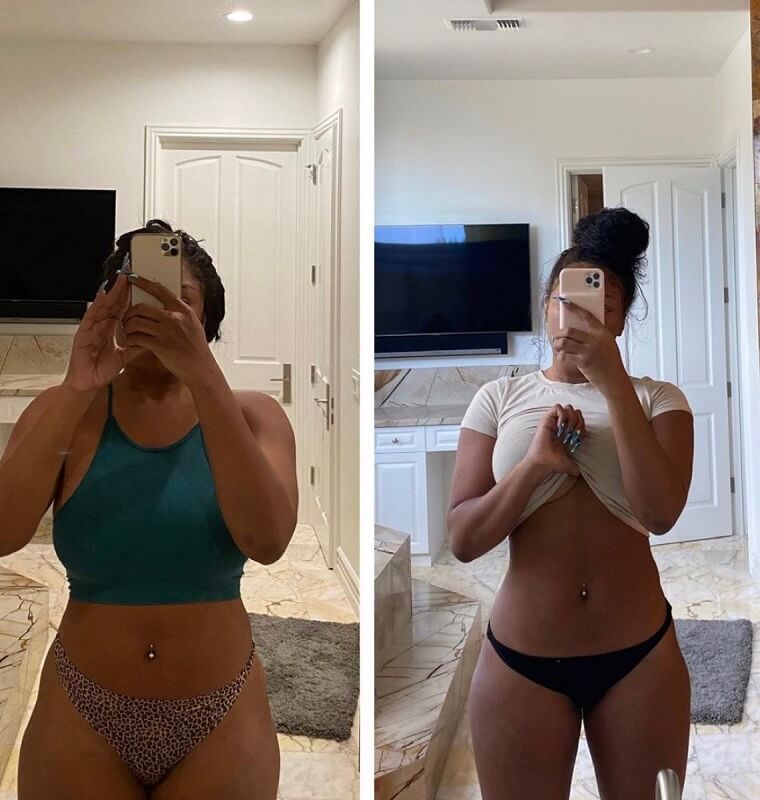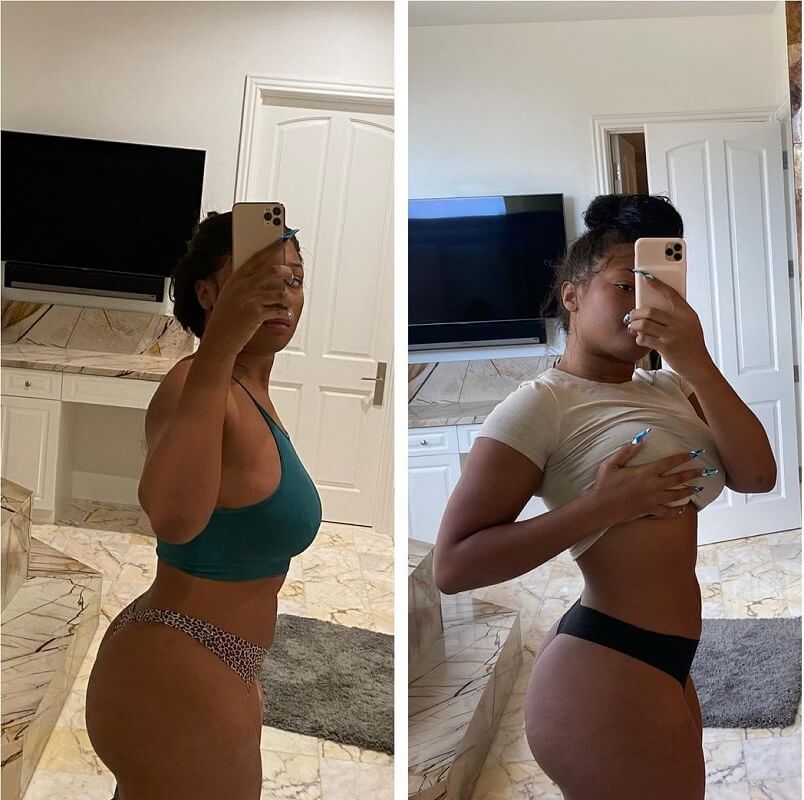 Megan Thee Stallion Weight Loss Program – Diet and Routine!
Megan began her Hottie Bootcamp routine with a set of good changes along with a proper diet and workout.
Before we let you in with the workout and diet sessions, let us help you in implementing those good habits.
#1.

Starting with drinking a gallon of water a day
One of the biggest factors that contributed to Megan Thee Stallion Weight Loss Results was just drinking water!
"One thing that has helped me a lot is drinking a gallon of water daily", says her caption on one of her progress pictures.
This picture was posted in the initial one to three weeks of the program encouraging others to do the same.
#2.

Throwing out the junk food!
The next weight loss update came from her post on January 21 showing her throw out all the junkies from her kitchen.
"Today we threw away all the stupid s*** that could have stopped us on our health mission." Said the caption with Megan announcing the official Hottie Bootcamp starting.
#3.

Stocking up the healthy food
After pouring out all of the junkies from her fridge, freezer, and pantry, Megan's trainer was all set to shop some goodies.
Timothy Boutte re-stocked Megan's kitchen with nutritious goodies helping her to stay focused on her goals.
So what were his top picks?
Fresh fruits, avocados, raw almonds, almond milk, and unsalted seasonings like garlic, paprika, and chili powder.
#4.

Workouts!
Megan was constant with her workouts while Tim was always by her side to make sure she was doing everything right.
But with her busy schedules, she did miss out on her workouts and was found saying, "If you missed a few days of your health journey, it's okay hotties, but today is not too late to get on track."
Talking about the workouts, she complemented her healthy lifestyle with grueling exercises like cardio, yoga, and much more.
Megan Thee Stallion Workouts Plan
After looking at a few Instagram videos and a few sources, we can clearly say what Megan is focusing on. She has been mainly prioritizing her lower body workout and core workout with some cardio.
Keeping the idea straight, let us follow the workout that can give you curves like Megan!
These workouts focus on full-body exercises without actually hitting the gym.
All you need is just a yoga mat and determination to work out five days a week.
#1.

Cardio
Training Days – Monday to Wednesday
For cardio, the best workout to follow is running just like Megan does at Hollywood park. All you need to do is run outside for about three to five miles.
This will help you warm up a little and also burn calories.
You can even run on a treadmill if you don't want to go outside.
#2.

Yoga
Training Days – Thursday and Friday
Yoga helps you get a toned body and slim waistline just the way Megan dons! It also helps you get your upper body worked and give you enormous upper body strength.
Plus one hour of yoga is an amazing cardio exercise helping you burn 500 to 800 calories.
Next, we plan out a complete full-body workout as followed by Megan Thee Stallion.
Megan Thee Stallion Weight Loss Full Body Workout!
The full-body workout plan followed by Megan Thee focuses mainly on the lower and core body. These plans will help you get curves like Megan Stallion if you follow them rightly.
Also, these workouts are circuit workouts that mean you only get to rest after completing the whole set.
Lower Body Workout
Training Days – Monday to Wednesday
Sets: 4
Reps: 15 to 20
Rest Time: One minute
Exercises:
Squats
Plie Squats
Jump Squats
Box Jump Squats
Lunges
Fire Hydrants
Wall Bridge
Curtsy Lunge
Hip abduction
Backward lunge
Core Workout
Training Days – Thursday and Friday
Sets: 4
Reps: 15 to 20
Rest Time: One Minute
Crunches
Bicycle crunches
Reverse Crunches
Leg raises to leg lifts
Russian twist
In and out
Plank reach
Side plank 30 seconds each
Plank for 40 seconds
Plank twister
Complementing the workouts, are the fuelling foods that you must eat to go on!
Following is the diet plan that Megan Thee Stallion follows for her Hottie Bootcamp health journey.
Megan Thee Stallion Diet Plan Analysis!
Megan has not been clear about her diet plan but she keeps sharing her progress tips with her followers.
Her Instagram handles show that her diet usually avoids any sugar, bread, or fried food content.
Comparing her different Instagram posts, we have come up with the following diet plan that you can follow:
Breakfast Meal:
You can make your own breakfast using the following diet plan:
Juice
Oatmeal
Fruits
Juice
Egg white
Snacks:
The following snack ideas are healthy for anyone who wants to achieve a body like Megan Thee Stallion:
Next will be the meal plan including the snacks that you can take in between your lunch and dinner.
Megan Thee Stallion Weight Loss Lunch Meal:
The ideal lunch for the Hottie Bootcamp health journey includes:
Snacks:
You can have the following foods for your snack before your last meal of the day:
Megan Thee Dinner Meal:
The following meal is what was the reason behind Megan Thee Stallion weight loss results:
This was all about Mehan Thee Stallion Weight Loss Drastic Transformation!!
Final Words
These were some of the diet routines and workout plans that were the whooping factors behind Megan Thee Stallion Weight Loss before and after pictures.
If you also want to gain those amazing curves like Megan Thee, you already know what to do!
The above guide will take you to achieve the results just how Megan did in her recent post!
But hold on, you can even join on the health voyage with Megan by following her on her insta handle!