7 Health Benefits to Drink Black Tea Before Your Workout
Allen Hicks
Enhance Your Workout With Balck Tea!
Black Tea Before Workout is the new fitness trend.
The claims are it elevates your focus and endurance during exercises. The question is does it benefit it all? Let's find it through the detailed analysis.
Most pre-workouts are designed to support the energy demands during workouts. This is possible because of the caffeine content present in them.
Obviously, black tea also contains an impressive quantity of caffeine getting you a kickass energy boost for better workouts.
Is it sufficient?
What are the Benefits of drinking black tea before workout?
We understand the numerous questions raising in your head. Before we check out various perks, let's find the link between black tea and pre-workout.
Black Tea Before Workout | Does It Benefit?
Tea is a very popular and common beverage in Asia.
Available in various forms, black tea is the most oxidized among the rest types. Basically, its aroma and distinct taste make it stand apart in the market.
Black originates from the Camellia sinensis plant. The most cultivate form, its most popular types comprise Ceylon, Darjeeling, Kenyan, and English breakfast tea. The best part is you can have it in different mixes and styles.
Because it savors different taste buds, with its unique tastes it's highly popular. Besides, the benefits of black tea are what make it highly popular.
Common benefits of Black Tea Before Workout
Decreases inflammation
Relaxes stomach upset
Advances metabolic profile
Enhances cognitive function
Promote immune system health
Antibacterial and anti-fungal properties
Have least calories and is full of nutrients
Boosts endurance for productive workouts
It May help protect against some kinds of cancer
Recent studies suggest it may benefit your workouts and increase productivity. The question is—
How Does Black Tea Benefits Your Workout?
When it comes to workout, caffeine is a key player.
In fact, a single compound can get your intense energy and ignite your performance.
This is why most pre-workouts are full of the ingredient. Also, leading fat burners and bodybuilding supplements comprises enough of the popular constituent.
Obviously, a cup of joy ends lethargy and revitalize your body making you energetic enough to sustain your day ahead.
So, when you are energy-deprived, you run for a cup of coffee. It does help you tackle your day and low energy snag.
Black tea or Black coffee before a workout—What's best?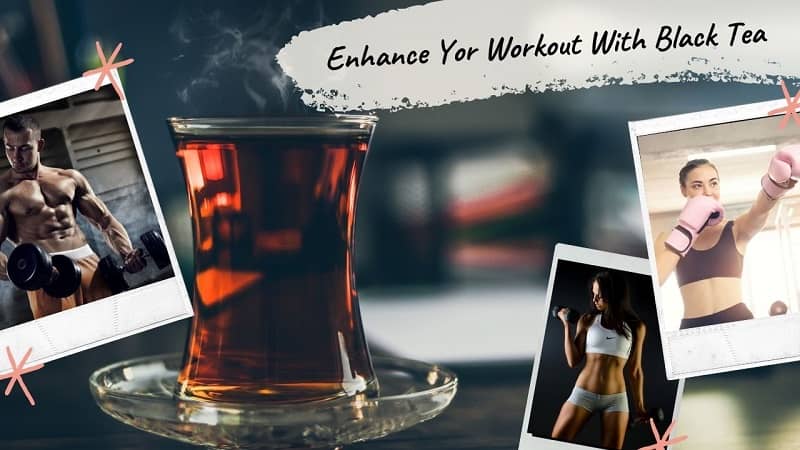 Comparatively, black tea has lower caffeine content, which makes it less effective for workouts.
Still, it is capable enough to activate your nervous system. This results in a robust active and productive workout.
Black Tea As Pre Workout Helps Energy Issue
In general, a single cup of tea contains 40-50mg of caffeine.
Once this amount enters your body, it promotes the release of adrenaline. This energizes your bodily and cognitive functions.
Also, it helps fight post-workout fatigue and exhaustion. Particularly, if you take black tea after a workout. It is an effective solution for usual low energy.
Black Tea Before Workout for Weight Loss is Another Use
Caffeine is a weight loss-boosting ingredient. Various studies have investigated the effects of black tea or coffee before a workout.
This is only possible because of the presence of antioxidants present in the substance.
In fact, having black tea 20-30 minutes before hitting the gym can increase your strength, stamina and even promote weight loss.
It also helps in improving your metabolic system to promote fat loss. replacing it with other beverage decimate the greater number of calories from your diet. This again helps in weight loss.
These Black Tea Before Workout Effects are making the next most popular thing in the fitness world.
Give it a shot to see how it works for you. First, let's check out the major benefits associated with the new popular pre-workout drink.
Top 7 Benefits of Black Tea Before Workout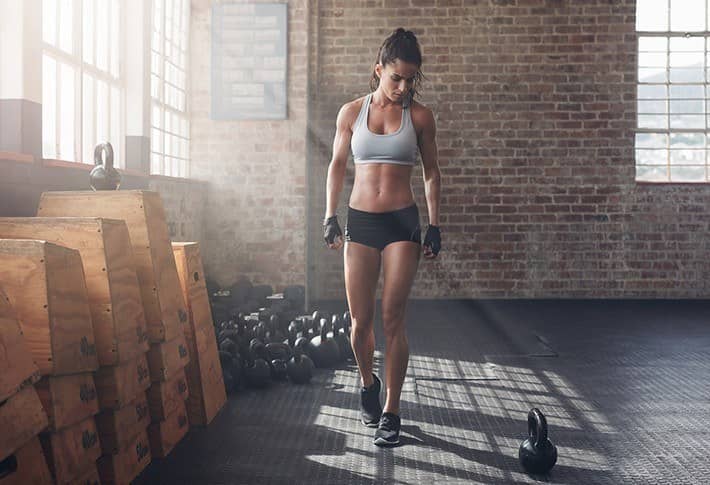 In general, black tea is good for your overall health and nutrition. However, it is also a great pre-workout. Studies suggest it may benefit different aspects of your fitness and wellbeing.
Here we've addressed the major benefits of Black Tea before workouts…
#1:

Promotes Metabolism
A study in the European Journal of Clinical Nutrition suggests caffeine present in black tea promotes weight loss by 65. Also, caffeine encourages stored fat breakdown and increases fat metabolism.
The compound helps in weight management and keeping weight off for longer.
However, this doesn't mean the more caffeine you have the better your metabolism will be.
The daily recommended caffeine intake is 400mg. taking more than this can subject you to side effects of caffeine. So have no more than 5-10 cups of black tea a day.
#2:

Decreases Calorie Intake
Replacing your favorite drink with black tea can lighten a huge load of calories from your diet.
A single cup of black tea has only 2 calories. Adding sweetener will add almost 20-23 calories.
Obviously, only by switching to black tea, you are reducing a huge number of calories from your diet.
A large soda has 400 more calories. On the contrary, a cup of a sweetened cola contains 100 calories, in total 150 calories. You can see the cut-off in the calories.
Studies have shown how drinking water before your means prevent you from eating more. Two studies in the journal Obesity found people who drink water before having a meal lost more weight compared to those who didn't.
The studies favored water. Still, drinking black tea instead before having a meal may have a similar effect.
#3:

Chinese Black Tea Aids in Fat Loss
Black teas turn black once they are oxidized, which results in the development of new flavonoids.
However, when you brew the black tea, it loses its dark color and gets reddish. This is why in China people address it as red tea.
Chinese black tea is different from what you have in the States. The leaves are the same, but the fermentation process is not the same.
The fermentation process relies on microorganisms and is left for a longer time. Thus, the tea gets a different taste and entirely different flavonoids.
Studies favor Chinese black tea extract more. A 2011 study published in Nutrition suggests it helps in maintaining body composition than those who don't drink it.
So, if you want to support your weight loss goal, add Chinese Black Tea Before Workout Routine.
#4:

Max Hydration During Intense Workouts
Black tea hydrates your body for intense and longer hardcore workouts.
Obviously, a workout freak knows the necessity of hydration during a workout to stop running out of energy.
Dehydration during exercise not only deprives you of energy but also impairs muscle functions and overall strength. This impacts the output of the workout.
During physical activity, the human body loses a significant amount of water in form of sweat. Thus, improper hydration results in insufficient workouts and may get you a sensation of dizziness.
Our muscle tissues are 75% water. Thus, the inadequacy of water impairs muscle repair, regeneration, and function to a great extent. Here's comes the role of black tea pre-workout.
Just by drinking black tea before a workout, your body gets enough hydration required for a functional workout.
Besides, it supports your muscle functions, energy stores, and overall body functions.
General pre-workout drinks have excessive caffeine and sweeteners with lots of calories.
In contrast, Black tea is only water with a few negligible calories with lots of polyphenols.
#5:

Promotes Energy Stores
A regular gym-goer acknowledges the importance of energy for a productive workout. The most struggle during workouts due to insufficient energy stores.
This is why most people rely on pre-workout drinks to fulfill their dynamic energy demands. However, these lip-smacking drinks are full of artificial flavors and sweeteners adding numerous calories to your diet.
Instead, try a better substitute and go for Black tea or coffee before a workout. Doing so prevents you from running out of energy.
Every time you hit the gym, you put out your best and have a productive workout.
The best part is the black tea before the gym keeps you hydrated.
Most importantly, the healthy drink doesn't load your diet with calories while providing you with essential flavonoids.
#6:

Quicker Muscle Recovery
One of the major trouble makers is the post-workout fatigue after an intense session.
This is an evident sign of a productive workout, but the excessive body pain is such a mess.
Still, proper nutrition can decimate the chances or intensity of post-workout slow muscle recovery.
Well, we are talking about the popular post-workout drinks. This quickens the muscle recovery process by firing up muscle healing, repair, and regeneration.
Such drinks are loaded with numerous calories and unhealthy ingredients. Thus, experts recommend switching to natural caffeine sources. A cup of black tea has a magical effect.
Black tea benefits in reducing muscle soreness. This is possible because it contains an impressive amount of catechins.
Henceforth, drinking it before or after a workout or even during performing exercises helps.
Besides, reducing muscle soreness, it also relaxes you, improves focus, and helps perform harder workouts. These factors make Black tea a perfect partner for all your workout demands.
#7:

Alteration in Gut Bacteria May Activate Quicker Weight Loss
According to a study in the European Journal of Nutrition, black tea may make changes in your gut bacteria.
In fact, it can potentially increase gut bacteria related to lean muscles while decimating those related to weight gain.
This alteration in your gut bacteria with serious training benefits your overall health. Doing so helps black tea support your weight loss efforts.
Not only it helps keep your obesity away but also helps get you a power-packed workout session.
Ultimately, this goes a long way just by regular workout and black tea obsession.
Black tea before a workout has become a popular option for all pre-workout alternatives. The reasons are many.
The above benefits of black tea before a workout supports why it should be part of your diet.
Here are some other benefits:
Have least calories (2 calories per cup)
Intense flavor
Amazing aroma
Full of flavonoids
Various mixes and styles are available
Complete natural
These benefits make it a perfect fit for your pre-workout demands.
Are There Any Risks to Drinking Black Tea Before Workouts?
Black tea has various health benefits. However, the promising beverage has various drawbacks as well.
In this section, we listed the most common risk factors associated with regular consumption of the drink.
Toxic Elements
All the different kind of brewed tea encompasses minerals. In excessive quantity, it can be poisonous.
In fact, lead and aluminum are present in your tea. Obviously, in large doses, these metals can be dangerous for human health.
Moreover, slight traces of cadmium and arsenic have been found in some teas. They aren't present in dangerous quantities to raise concern.
Also, it also has greater levels of manganese. Our body does require the mineral, but in excess it's harmful.
The longer brewed tea has a greater concentration of harmful elements. Thus, you shouldn't brew tea for more than 3 minutes.
It becomes important to have a limited amount of tea daily to prevent the risk associated with black tea.
Effects of caffeine
Black tea encompasses almost 2-4% of caffeine. This makes caffeine-sensitive people suffer from the beverage.
This includes anxiety, insomnia, irritability, or digestion issues because of excessive consumption of black tea.
Excessive caffeine consumption can also cause:
a spike in blood pressure
eye pressure, and possible glaucoma
an increase or decrease in blood sugar
cardiac arrhythmia, or an irregular heartbeat
Digestive issues like diarrhea and irritable bowel syndrome
Calcium loss through urine resulting in weak bones and osteoporosis
People having excessive black tea can result in these symptoms. If you experience, you need to visit the doctor in the first place.
Anemia
Black tea comprises tannins.
A 2017 review shows that tannin rick food like tea is a good source of anti-oxidants, can lessen the ability of the body to absorb iron.
Thus, people with black tea consumption suffer from iron deficiency.
Contrarily, people with a history of anemia should avoid black tea. Also, they can have iron-rich food to compensate for the gap.
Composition
Read-to-drink teas and iced tea are less healthy than plain black tea because of their composition.
On contrary, Instant and flavored teas may encompass additional sugar and other constituents.
Moreover, adding extra milk, sugar, cream, and syrups, etc., to black tea can increase calorie content while reducing the health benefits.
Thus, it's become important to take tea in the right brewing.
The risk associated with the black tea is real. However, this doesn't at all undermine the benefits related to having black tea before workout.
To power up your performance, it's the best low-calorie drink available. 
When Should You Drink Black Tea Before Workouts?
Black tea works as a powerful pre-workout booster.
Still, people wonder about the ideal time to have coffee or black tea before hitting the gym. After all, timing matters.
Obviously, you can't sip the beverage, and the energy rolls out in your body instantly.
You just need to lift the weight to have an explosive session.
Caffeine does go down quickly, but it takes almost 15-30 minutes to hit your stomach. The boost can be seeming within 30-75 minutes of black tea intake.
Have your black tea at least half to one hour before reaching the gym. This will keep things at a safer end.
Another aspect requiring consideration is lifestyle. You should have it as per your routine requirements.
For early rises hitting the gym in the morning, having caffeine won't really make a mess.
However, for early own hitting the gym in the evening, the cup of joy can cause trouble.
You should never take a heavy dose of caffeine six hours before shutting your eyes for the day.
Now, you know the right time to take black tea before workout.
Next, it's time to answer some common questions related to the new pre-workout drink.
Black Tea Before Workout- Most Common Fast-Related Question Answered
Elevate Your Energy Level With The Energy Booster Blend Before Your Training!
Next, let's have a look at the most common questions related to black tea and its benefits. The key information will further provide clearer insight.
Q1:

Is Black Tea Good for the Gym?
Undoubtedly, it is!
It is a much healthier option than other pre-workouts available. It is an all-natural substitute for sports nutrition and the best pre-workout drinks.
Not only it supplies you with enough energy but meets the dynamic demands of your workouts.
Most importantly, it cuts off a huge number of calories from your diet while supporting digestion and overall health. Obviously, this makes it best fit your workout.
Q2:

Is Drinking Tea Before a Workout Good?
Drinking black tea as a pre-workout delivers faster results by increasing muscle contraction, expansion, and overall muscle functions.
Also, the balanced level of caffeine supplies enough energy boost for workout and encourage fatigue. On top of that, it elevates the fat burning rate by firing by metabolism.
Undoubtedly, these factors make it a perfect fit for your diverse workout requirements.
Q3:

Which Tea is Best for Pre-Workout?
People wonder black tea or green tea before workout, what's best?
If compare the nutritional value and benefits, green tea is more beneficial. Also, in terms of taste and effects, it is at a winning stand.
Also, studies suggest taking green tea before a workout burns 17% more fat during a 30-minute mild intensity workout.
Thus, we can conclude green tea is more beneficial. However, that doesn't at all mean black tea is anyway less.
It also promotes your workout and fat loss. Still, green tea is slightly better at getting you results.
Q4:

How Long Before a Workout Should I Drink Tea?
90 Minutes!!
If you want to drink black tea for weight loss, it is best to take a cup or two before you hit the gym.
A study suggests EGCG combined with caffeine when taken 90 minutes before a workout significantly promotes fat oxidation during the performance.
Obviously, this applies to different types of tea as well. Whether you take black tea or black coffee before workout, keep attentive to this small factor. This will help you level up your gain ultimately.
Q5:

Does Tea Affect Muscle Growth?
Yes, having tea regular can improve your muscle health.
Actually, these are full of flavonoids and polyphenols. These micronutrients are necessary for lessening oxidative stress and muscle breakdown.
When you start taking black tea regularly, you start experiencing these benefits in the long run.
Can I drink black tea before a workout?
Obviously, you can have it but be regular to it to receive maximum benefits.
Q6:

Is Black Tea good for Athletes?
Obviously, it is.
Black tea is full of micronutrients essential for proper muscle gains. This helps bring oxidative stress.
Also, it supports your muscle functions while supplying you enough with energy.
Thus, you have a productive and breakthrough workout.  This is a perfect fit for your diverse workout requirement making it best for athletes.
Q7:

Does Tea Affect Workout?
Studies have shown how drinking tea before workouts improve your productivity.
Not only it improves hydration but fulfills your energy tanks for energetic workouts.
Also, it helps in improving your muscle gains and fat loss by encouraging metabolism.
Q8:

What Should I Eat After a Gym Workout?
There is various food you can have post-workout. However, certain meals offer better results than others.
These Post-workout foods are
quinoa.
crackers.
oatmeal.
rice cakes.
sweet potatoes.
whole-grain bread.
chia seed pudding.
fruit (berries, apple, bananas, etc.)
You can also take a look for the Best Pre-Workout Foods to optimize your workout session.
Our overview on Black tea and its pre-workout benefits end here. Lastly, check over our final opinion on this popular beverage.
Takeaway
Black tea is a popular beverage all around the world.
Obviously, its pre-workout benefits amaze us all because of its low-calorie content and nutrients profile.
The simple water-based drink has numerous advantages.
It refills your energy tanks while promoting muscle repair and regeneration.
Also, It improves your metabolic activity as well as weight loss.
The best part is that the rejuvenating drink is available in a number of flavors and mixes.
So, you can pick either according to your taste and preference and perk up the power of your workout.
Reasons why black tea before workouts:
It is rich in flavonoids and antioxidants, which helps in fueling your energy tanks and regulate cholesterol level.
Taking black tea also lessens triglyceride levels and helps in lessening belly fat and overall obesity.
Studies show caffeine can elevate stamina during intense activity. It also helps increasing focus and cognitive functions.
Intake of caffeinate drinks supports your dynamic requirement during workouts.
Our discussion on black tea before workouts end here.
Have any queries? Share with us in the comment section to receive a reply. Thanks!!