Best Collagen Supplements for Sagging Skin – Types, Benefits & Drawbacks
Allen Hicks
Get the Best Collagen Supplements To Get You That Year-Round Glow!
Collagen booster claims to tighten your loose skin. Are they really effective?
Let's find out as we begin our Best Collagen Supplements for Sagging Skin Reviews 2021.
As you grow older, your body process slows down. This results in the different signs of aging including sagging skin. The trait is most common among older females.
All sagging skin may seem similar, but it can be of different grades. You can experience light and slight sagging on your face to sagging thighs and even your tummy.
If left unattended, the condition of your skin may get worse…
Mainly, it occurs due to the reduced production of collagen as a result of aging. So, taking a collagen booster can help you reduce the symptoms of sagging skin.
Can collagen boosters really treat the sign of aging?
Before we come to any conclusion, let's understand sagging skin in detail.
The Truth About Sagging Skin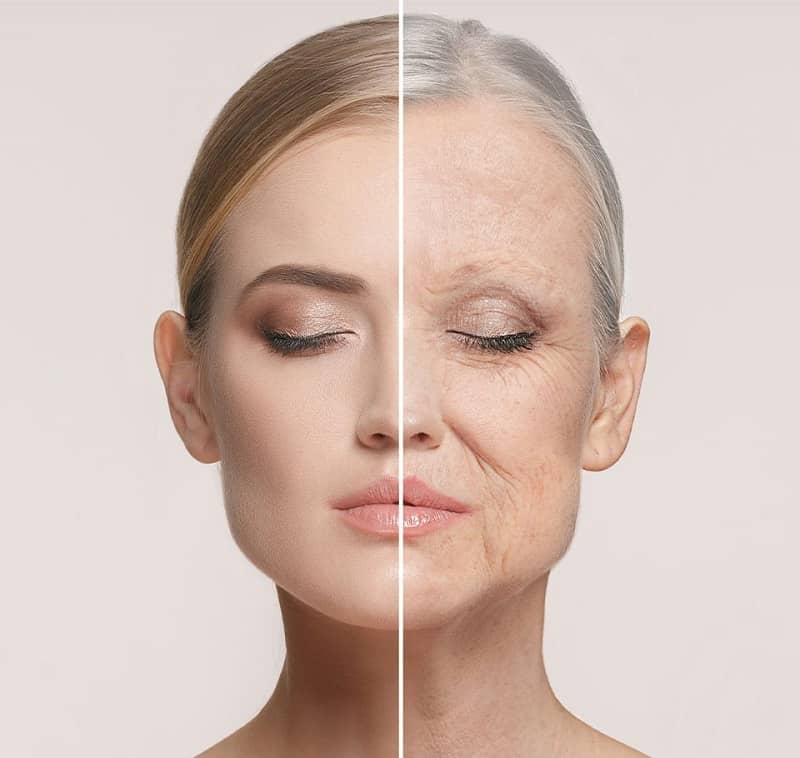 Skin is the larger human organ.
It functions as a protecting layer from attributes like UV rays, harmful pollutants, environmental irritants, and more.
As it is our first line of defense, it has to suffer maximum damage against the external force. This is why the intense skin damage doesn't surprise us at all.
Behind the skin, the layer of collagen maintains the natural elasticity and firmness of your skin.
With aging, you begin to lose collagen density. This results in the fine lines and loss of elasticity.
The gradual loss of skin elasticity leads to skin sagging and crepe. But, what causes sagging skin…
What Causes Sagging Skin?
Skin sagging doesn't occur in everyone due to one specific reason or only one triggering element.
You can encounter various contributors resulting in the sign of aging.
However, experts have identified the top 3 contributors to sagging skin. This includes:
Aging
weight loss
Absence of poor diet, quality sleep, and free radical damage
You can experience sagging skin on different parts of the body because of these triggers. This can get worse with time.
These contributors destroy the natural integrity of your skin. Indeed, this includes collagen and elastin.
Thus, your skin loses its natural firmness and elasticity making you end up with sagging skin.
The role of collagen in terms of your skin health is of top-most importance. Let's explore more about collagen supplements for sagging skin.
Collagen Is Important for Proper Skin Health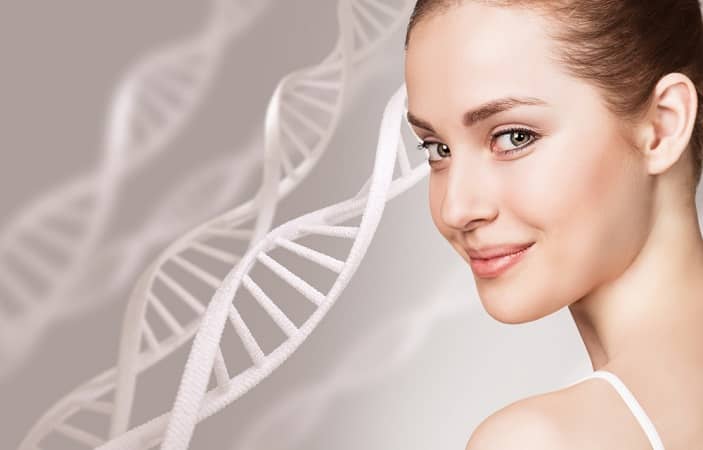 Generally, babies and young kids have lustrous, firm, and rosy skin. this is because of the elastin, collagen, and healthy skin fat.
Collagen is a necessary structural protein present in the skin and throughout the human body.
Undoubtedly, when babies are born, they have the maximum level of collagen giving them the best-looking healthy skin.
Collagen is responsible for maintaining the individual cells together. Besides, it supports and strengthens via long fibrils of collagen molecules.
The dermis has almost 70% of collagen and 80% of the collagen in the skin Type 1, which is the most plentiful collagen in the human body.
Rest left in the dermis are elastin, hyaluronic acid, and fibroblasts. The specialized cells are responsible for producing new collagen cells.
The density of Collagen determines the youthfulness of your skin. So, the best collagen supplements dermatologist can benefit your sagging skin.
However, are you up with the right collagen type?
Types of Collagen
Typically, the most common protein collagen is present throughout the human body. Surprisingly, your body can generate up to 28 different types of collagen.
The best collagen supplement for loose skin employs the following types of collagen.
Type 1 collagen
90% of the collagen in the human body. The protein is present throughout the skin, and even in tendons, ligaments, and bones.
Type II collagen
Builds strong joints by developing cartilage.
Type III collagen
Backs organs, muscles, and arteries. It is also present in fewer amounts in skin and bones.
Type IV collagen
A chief element of the basal membrane, which is present between the epidermis (outer layer of the skin) and the dermis (middle layer of the skin).
In short, you need to ensure collagen supplements for loose skin you are using involve type 1 collagen. besides, the type of the protein, the quality, and the form of the best collagen for sagging skin to varies.
Different Types of Collagen Supplements
Picking the right type of collagen supplements to tighten skin is necessary.
It only determines the extent of the results you can expect from the product.
You can try one of the following forms of collagen for saggy tummy and other skin problems.
#1: Collagen Powder
The collagen powder for loose skin constituents from hydrolyzed collagen, which is available in amino acids form.
This makes it easily absorbable for the human body. You can try the best collagen powder for sagging skin.
Not only you can take it in the form of drinks, but add it to your smoothies, shakes, and other recipes.
#2: Collagen Pills
Collagen pills for loose skin are available in tablet or gel capsules.
You can buy the best collagen pills for sagging skin by comparing users' reviews. Nonetheless, you need to adhere to the dosages to receive maximum results.
#3: Collagen Gummies
These are chewable supplements for sagging skin. not only they look like candy but have similar taste.
#4: Liquid Collagen
It is a premixed drink containing hydrolyzed collagen as a key ingredient.
#5: Collagen Protein Bars
These can be taken post-workout to support joint and bone health. they aren't designed to improve your skin health immensely.
Not every type of collagen form benefits your sagging skin.
Thus, it becomes highly important to pick out the right type of collagen product to support your lose skin.
Experts recommend the pill form best to amplify the collage density naturally. However, it has its own advantages and drawbacks.
Next, in Best Collagen Supplements For Sagging Skin Reviews, let's check them out…
The Benefits of Collagen Supplements
The regular intake of the best collagen for wrinkles benefits your sagging skin as well as other parts of the body.
Besides, there are other common Collagen Supplements benefits.
#1:

Easy to Use
Hydrolyzed collagen lets your body absorb a supermolecule.
Actually, a normal collage molecule is so big, it can't go through the skin. moreover, it can't be broken down and absorbed into the bloodstream.
On the contrary, collagen supplements come in easy-to-use formulas. You just have to swallow it like any other health supplement.
It cuts down all the hassles surrounding other forms of collagen.
#2:

Effectiveness Over Time
A review of 11 different studies on oral collagen supplementation found impressive findings.
They found collagen help with loose skin. in fact, it reduced signs of aging and induce healing.
However, the supplement doesn't get you the instant difference. You can observe noteworthy changes in your skin tone only after three months' usages of the formula.
#3:

Can be Mixed with Other Essential Ingredients
Many collagen supplements are available in different forms.
This includes pill, powder, or gummy form, which contains vitamin C helping to support collagen production naturally.
Eventually, it restores the lost collagen while increasing natural collagen synthesis. However, you can receive the collagen benefit only when you use the right formula contain hyaluronic acid, which hydrates the skin.
The benefits of collagen supplements are promising.
They clearly show why the supplement form is best for improving collagen density and get rid of sagging skin.
However, the formulas aren't only about advantages only. There are various drawbacks as well.
Let's proceed in our Best Collagen Supplements for Sagging Skin Reviews for further details.
The Drawbacks of Collagen Supplements
Collagen supplements aren't above perks only. Sometimes they have drawbacks. The most important one is that they aren't vegan.
In fact, most collagen supplements are made from animal sources.
The main drawbacks to best collagen for tightening skin are:
#1:

It requires more research
The main source of collagen supplements is animals.
Mainly, it includes porcupine collagen (from pigs), bovine collagen (from cows), and also marine collagen (from fish).
Various studies are available confirming the efficiency of collagen from other sources.
However, more research is necessary to establish the benefit of animal collagen for sagging skin and other human health conditions.
Moreover, collagen supplements to tighten loose skin mainly involves bovine collagen powder form.
This may not source from high-quality animal parts.
Thus, when buying the best collagen supplement for sagging skin, look for a formula that comes from grass-fed cows.
Obviously, it lessens the risk of excessive ingestion of antibiotics or hormones.
#2:

Collagen doesn't target your need
When you have collagen, your body determines where and how it is going to be in use, irrespective of the type of collagen you use.
Also, remember that type 1 collagen isn't only present in the skin, but also in bones and connective tissues.
You may use the best collagen for loose skin. Instead, your body uses it to strengthen your tendons. Still, it will benefit your loose skin but in the long run.
#3:

Doesn't fit everyone's diet
Many collagen supplements in the market are obtained from animal sources. This makes them inappropriate for vegans and vegetarians.
Moreover, some people have fish or shellfish allergies. So, they can't consume marine collagen (from fish). In such cases, plant-based collagen boosters are the best alternatives.
Not only do they encompass elastin and biotin but are suitable for preserving healthy hair and skin.
Mainly, collagen doesn't work for vegans and vegetarians. With better plant-based alternatives, they have been introduced to new possibilities.
The drawbacks may stop your heart for a moment. Still, it isn't at all alerting.
You can use the best supplement for sagging skin and vitamins to tighten skin after weight loss.
Now let's read some tips on tightening skin without the use of Collagen supplements for sagging skin.
How to Tighten Your Skin By Boosting Collagen Naturally?
Collagen supplements for tightening skin aren't the only way to support your skin health.
There are various natural ways to induce collagen synthesis.
Here's how to tighten skin on face by strengthening collagen production naturally!
#1:

Take Care of Your Diet
What you consume determines the natural collagen production of your body.
For instance, high sugar food results in glycation, which restricts collagen generation. Eventually, it results in sagging skin and other consequences.
Thus, adding some more collagen-promoting nutrients to your diet can benefit your skin health.
This include:
Vitamin C: The vitamins that help tighten skin is an antioxidant, which has a crucial role in collagen synthesis. It is present in oranges and berries.
Sulfur: This trace mineral is vital for collagen generation. The best sources include broccoli, asparagus, and eggs.
Zinc: Another mineral obligatory for collagen production. You can find it in lobster, oysters, and chickpeas.
Lycopene: An antioxidant, lycopene defends the skin and promotes collagen. The main sources are peppers, tomatoes, and beets.
To improve your collagen health naturally, be attentive to your diet.
Have more of the above-mentioned nutrients in your diet.
Not only it preserves your already present collagen but also boosts further production.
#2:

Minimize Sun Damage
UV rays can stimulate the gaining process by deteriorating existing collagen.
Also, it promotes the development of irregular elastin fibers, leading to wrinkles and sagging skin.
Thus, it becomes important to protect yourself from sun damage.
You can apply a broad-spectrum sunscreen to reduce sun damage. Or, you can wear a wide hat and sunglasses with UV lenses for further help.
The best measure is to limit sun exposure as much as possible. Avoid outside work during peak sunlight hours.
#3:

Scrub your skin
A study by the Tokyo Institute of Technology investigated the effects of facial massage.
They found a 10-minute facial massage with a roller promotes blood flow and dilated blood vessels.
Eventually, this creates a favorable environment for better collagen production. Moreover, regular facial massage with a firming cream increases the natural firmness of your skin.
#4:

Don't smoke
Another study investigated the effect of tobacco smoke on collagen production. Published in the Journal of Dermatological Medicine, the study found smoking inhibiting collagen production and deteriorate existing collagen and elastin fibers.
Evidently, this translates into wrinkles and fines lines. The effects are greater in the area around your lips.
So, you should skip smoking in the first place.
These tips help to relieve sagging skin without the use of Collagen supplements for sagging skin.
You can start slowly and bring these changes to your lifestyle slowly and steadily.
At last, read our expert opinion on the use of collagen and vitamin for tightening skin.
Takeaway
Sagging skin is one of the worst signs of aging, low collagen density being the worst culprit behind it.
Thus, the use of collagen supplements for sagging skin can benefit.
However, when it comes to using such a formula you need to understand what type of collagen you require and in which form.
Ultimately, it determines the effects it would deliver for your skin.
It is important to bring some lifestyle changes to support your collagen health. everything has its pros and cons, the same goes with collagen supplements as well.
For vegans and vegetarians, a plant-based alternative is a good option.
One thing that you need to understand is when it comes to reversing such conditions, it doesn't happen overnight.
You need to use the supplement in the long run for satisfactory results.
Find the article worthy? Share it with your friends!