Are Overnight Oats Healthy? Best Oatmeal For Diabetics [Benefits]
Allen Hicks
Jazz Up Your Boring Breakfast With Healthy And Delicious Overnight Oats!
The main concern of a diabetic person is blood sugar spikes and the instant solution that comes to mind is insulin. However, insulin may not always be helpful.
Start building healthy habits and bring changes to your diet. 
Here are some lifestyle changes to incorporate if you have diabetes.
Start exercising for at least 30 minutes a day.
Get regular check-ups to monitor your blood sugar levels.
Quit smoking, not only you will help your lungs but also your diabetes.
Manage your stress to avoid frequent blood sugar fluctuations.
Switch to foods with a low glycemic index such as
All those who are thinking are overnights oats good for diabetics? Don't stress!
Continue reading to find out everything about Overnight oats and diabetes.
Including exercise is easier than changing food habits. However, if you are diabetic, you need to switch your diet completely.
It is important to have knowledge about the food you consume. Oats are a staple when it comes to healthy foods habit.
Earlier we asked you to choose low glycemic index food and the overnight oats glycemic index makes it perfect for your consumption.
But, what exactly is the Glycemic index? Let's find out about the glycemic index and its importance for diabetes.
Glycemic Index- What's That?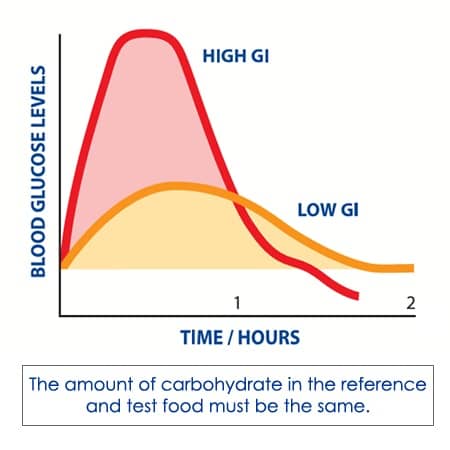 In simple terms, Glycemic Index is a measuring scale used to measure the rate of blood sugar spikes due to the presence of carbohydrates in any food.
This is why food with a Low Glycemic Index is better for managing blood sugar levels.
Another important factor that Glycemic Index can help is deciding the portion size of carbs that can help you figure out accurate blood glucose spikes after having your meal.
Are overnight oats good for diabetics and what is the Glycemic Index of oats?
Is this question troubling you?
Well!
Diabetic overnight oatmeal or oatmeal, in general, has a Low Glycemic index compared to normal breakfast cereals. Oatmeal GI is usually around 55 depends on the type you eat while cereals and cornflakes have a GI of 70.
There are a bunch of different forms of oats are available in the market so, what oats are best for diabetic overnight oats recipes?
Types Of Oats- Choose Your Oats Wisely
Choosing the right kind of oats is very important to make overnight oats good for diabetics.
There are mainly three kinds of oats available in the market but not all are suited for diabetes.
Thus, here are the different forms of oats to choose from.
1: Steel-cut oats
They are also known as Irish oats. It is the least broken down oats and has a chewy texture.
If you want to try diabetic overnight steel-cut oats, you might have to cook your oatmeal first and add a topping like fruits later. They are very filling and take the longest to cook.
2: Rolled oats
It is the old-fashioned oats; you can steam them or soak them in milk or plant-based alternatives overnight to prepare oatmeal for breakfast.
It is the best type of oats for overnight oatmeal recipes for diabetics.
3: Instant oats
It is an extremely processed version of oats that has lost a lot of nutritional value.
So, if you are making overnight oats diabetic-friendly stick to rolled oats.
These were some common varieties of oats used to prepare overnight oats for diabetes.
The best one among them has to be the old-fashioned rolled oats.
"Can diabetics eat overnight oats"?
If you are still not sure about it, look at the nutritional values and benefits of overnight oatmeal for diabetics.
Overnight Oats and Diabetes- Are Overnight Oats Good For Diabetics?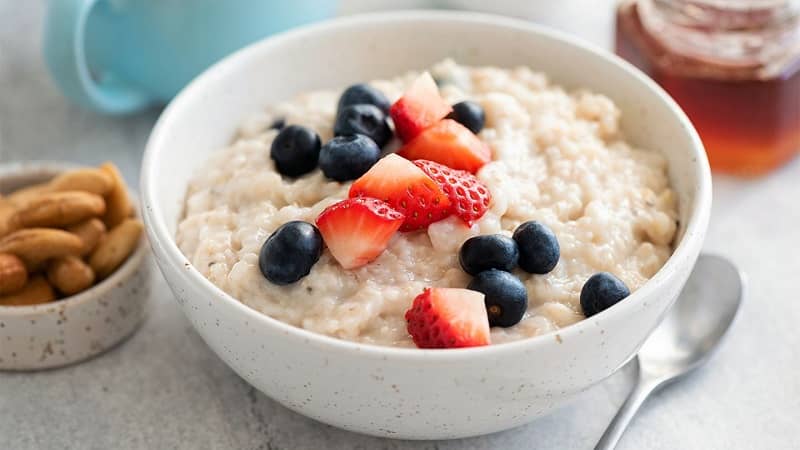 Can diabetics eat overnight oats?
Hell yeah!
People don't know the benefits and nutritional value of the most trustworthy breakfast option i.e. oats.
Oats are actually very nourishing and beneficial for diabetics. It is rich in fiber and low in glycemic index which makes it the top pick for people with diabetes.
Nutritional Content
Here is the breakdown of the nutritional composition of regular overnight oatmeal for diabetics without any added sweetener or tastemaker.
160g- calories
52g- carb
14g- fiber
13g- protein
3g- fat
4mg- Iron
335mg- Potassium
42mg- Calcium
These are some essential nutrients your body requires and oats are pretty rich in such fibers and minerals and when soaked overnight with nuts, seed, and milk it just becomes more nutritional and healthy for diabetics.
Next, we will be covering the Benefits of Overnight Oats For Diabetics.
Are overnight Oats Healthy? [Mind-Whopping Benefits]
Oats are a high nutritional whole grain that contains fiber, carbohydrates, plant-based protein, and B vitamins.
This makes it one of the most powerful meals for gut, heart, and brain health.
However, if you are struggling with "are overnight oats good for diabetes" you need to look at these eye-opening benefits of Overnight oats.
#1: Provides Ample Of Fiber
A low fiber diet often leads to digestive problems such as stomach pain, acid reflux, constipation, and more.
However, oatmeal is a spectacular source of fiber. It can offer up to 14g of fiber daily.
Consuming overnight oats and including fruits, yogurt, or milk in it can increase accelerate healthy fiber absorption in the body.
Overnight oats have soluble fiber which helps reducing blood pressure and to unclog the intestinal tract.
Thus, overnight oats can decrease high cholesterol levels and lower your blood sugar levels, which helps in controlling blood sugar spikes for people with diabetes.
#2: Overnight Oats Can Reduce Diabetes
Type 2 diabetes is the most common condition characterized by high blood sugar and insulin levels.
According to researchers people who consume good amounts of plant proteins are at a lower risk of developing this condition.
Overnight oatmeal for diabetes is good as it is high in plant protein.
A study was conducted on men with a high and a low plant protein diet. Those who consumed a good amount of protein in their active lifestyle were 35% less likely to be diabetic.
Furthermore, the daily consumption of overnight oats was directly connected to a lower risk of type 2 diabetes.
#3: Overnight Oats Can Improve Cognitive Functioning
Not only are overnight oats good for diabetics but it also helps in boosting your brain functioning.
A number of studies suggest that B vitamins can enhance brain functioning.
One of the studies showed a vitamin B deficiency can cause major cognitive disorders. Thus including vitamin B with the help of overnight oats can protect you from memory loss and brain disability.
A clinical trial on patients with Alzheimer's proved that a regular intake of Vitamin B can control toxic levels of homocysteine in the blood, which helps in reducing brain shrinkage, atrophy, and other cognitive disorders.
#4: Overnight Oats Can Fight Hormone Imbalance
Overnight oats contain zinc which plays an important part in regulating your hormones.
When you have balanced hormones you can fight a number of illnesses such as thyroid, irregular menstruation, insulin resistance, and even cancer.
Studies suggest that zinc in overnight oats can help in the production of active sex hormones in both men and women.
It can bring testosterone levels back to normal as high testosterone levels can lead to androgen resistance or cancer.
These were some benefits of overnight oats. You can see not only are overnight oats good for diabetes but they also help in fighting multiple diseases.
We hope these benefits cleared your doubts on "are overnight oats good for diabetics".
If you have decided to incorporate overnight oats into your daily diet then you must be looking for an interesting and fun diabetic overnight oats recipe.
Well! You hit the jackpot!
Here are some recipes for the best overnight oats for diabetics.
Start Your Day With Healthy Diabetic Overnight Oats Recipes
How to prepare oats for diabetic patients?
It is an important question when we are telling you to incorporate oats and Low GI food.
But, hold your horses; we brought you some mouth-watering overnight oats recipes which are actually diabetic-friendly overnight oats.
1: Peanut Butter And Chocolate Overnight Oats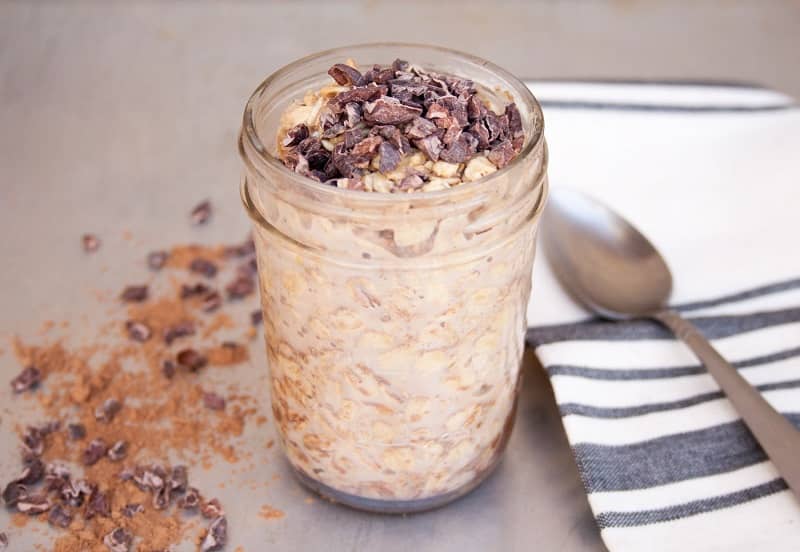 Looking at the word chocolate might intimidate you but don't worry, diabetic doesn't mean you have to have bland and sugar free overnight oats.
Here are the ingredients to be used in this overnight oats recipe for diabetics.
Ingredients:
1 tbsp of chia seeds, 3 tbsp of cocoa powder, 1 tbsp of vanilla extract, 1 cup of pumpkin puree, 1 cup of almond milk, 4 tbsp of peanut butter, 1 ripe banana, 2/3 cup of rolled oats, and Chopped nuts or peanut butter or chocolate chips
How To Prepare Peanut butter overnight oats For Diabetics?
Mash ripe bananas and mix them with pumpkin puree, vanilla extract, chia seeds, cocoa powder, and peanut butter.
Add rolled oats, maple syrup, and milk (almond milk) and mix everything together. Place it in a refrigerator overnight.
You can add nuts, fruits, and Choco chips of your choice while having it for breakfast.
Benefits
It is a healthy way to satisfy your sweet tooth.
Packed with fiber, antioxidants, protein, potassium, and vitamin A.
Is Peanut butter good for diabetics?
Ofcourse YES!!!!
Peanut butter is an ideal option that tastes delicious and also it won't upset your glucose levels.
Check out this article for more details.
2: Yogurt And Mixed Fruits Overnight Oats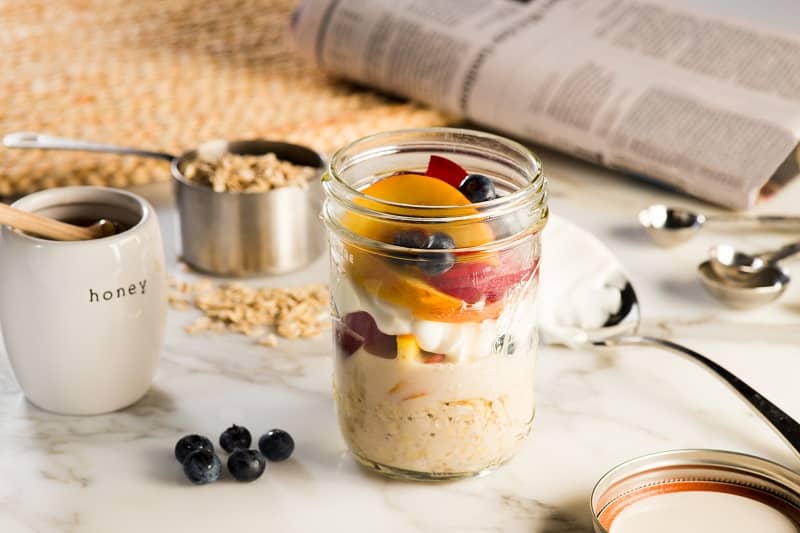 If you are a fruit lover you will love this breakfast and this one is the easiest overnight oats recipe for diabetics.
And, for all those who are still wondering are overnight oats good for diabetics?
Well! Try this simple and healthy recipe you will know.
Ingredients:
Chia seeds, frozen berries or seasonal fruits, 1/3rd cup of oats, 6 ounces of Greek Yogurt, and 2 spoons full of milk (preferably plant-based)
How To Prepare?
Combine milk, chia seeds, oats, and yogurt and stir them together
Transfer these ingredients into a jar by layering frozen berries and fruits simultaneously.
Keep it in your refrigerator overnight and have it for breakfast. You can even add more fresh fruits, seeds, and nuts while serving.
Benefits
It is a sugar-free overnight recipe and loaded with probiotics and other essential minerals.
Fruits contain natural sugar and are best to consume in the morning if you are diabetic.
3: Salted Caramel and Mocha Flavoured Overnight Oats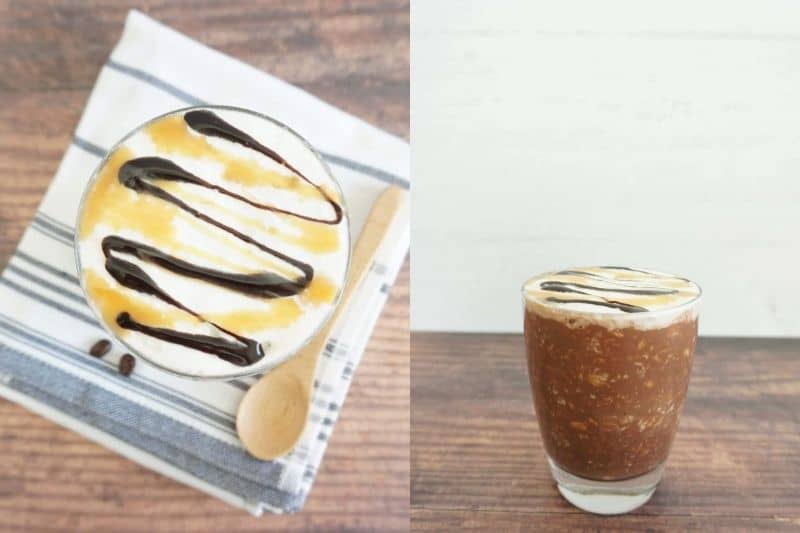 If you are someone who doesn't enjoy overly sweet food then try this salted caramel recipe and enjoy the best overnight oats recipe for diabetics.
Ingredients:
2 tbsp of cocoa powder, 1 tbsp of maple syrup, 1 cup of Greek yogurt, 1 tbsp of chia seeds, 2 chopped dates or 1 tbsp of date caramel, 2/3 cup of rolled oats, 1/4 cup of milk, 1 ripe banana, 1/2 cup of cold coffee, and 1 tsp of vanilla extract.
How To Prepare?
Mash the bananas and add vanilla extract, maple syrup, milk, coffee, and yogurt to this.
Add chopped dates or date caramel, cocoa powder, chia seeds, and rolled oats and them well.
Cover it and put it in your refrigerator and have it for your breakfast the next morning.
Benefits
High in fiber, antioxidants, and calcium.
It is a great recipe for people with heart diseases and skin problems too.
These were some recipes for overnight oats gestational diabetes.
But, the benefits of having overnight oats are limitless. As we discussed earlier, it can prevent multiple diseases and make you healthier.
These diabetics' overnight oatmeal recipes should have cleared all your doubts on are overnight oats good for diabetics?
With this, we will be wrapping up and recalling some key points of this blog.
Conclusion
Oats are a superfood and if you are obsessed with them then good for you!
It is extremely easy to make, in fact, overnight oats require no cooking skills whatsoever. So you can't make excuses to include some healthy overnight oatmeal recipes for diabetics.
Overnight oats are not only good for diabetes but also have high health-promoting effects on the heart, brain, muscles, and skin.
The nutritional value present in oats plays important role in keeping your overall health on track.
We hope we could answer the most asked question related to diabetes and overnight oats i.e. are overnight oats good for diabetics?
We recommend eating mindfully even if you aren't diabetic. This will ensure your safety from several health risks and help you have a healthy life.