Allen Hicks
Brace Yourself To Turn Heads Around With Your Thick, Long, and Luscious Hairs!
Are you tired of dull and damaged hair?
Do you know the benefits of oiling hair overnight?
One of the effects of not applying oil to hair is dried and lifeless hair.
But, when start applying oil to hair before sleep, you start noticing a significant change in your hair texture and scalp health.
There are several benefits of applying oil on hair overnight which we will cover in detail.
Here are some key points you should be looking forward to.
Certain hair oils can nourish your scalp with nutrients and essential vitamins.
Oiling can strengthen your hair follicles and roots to stimulate hair growth.
If you have extremely frizzy hair, oiling can make it smooth and frizz-free.
Hair oiling is one of the most convenient home remedies to repair damaged hair.
However,
What is exactly hair oiling treatment is?
How to oil my hair?
Which oil is the best for treating damaged hair?
Applying oil to hair at night is good or bad?
These are few questions that might be confusing you to start hair oiling treatments.
Don't Worry! We will answer all of it. But first, it is important to deal with what hair oiling treatment is and the science behind it.
Hair Oiling Treatment: The Scientific Approach
Hair oiling can be called an age-old Indian tradition or a 5000-year-old science of Ayurveda.
According to Ayurveda the benefits of oiling hair overnight at least once a week helps to:
Stimulates the cells to remove toxins.
Improves microcirculation.
Restore the overall balance of the body.
Boosts hair growth.
Delays greying of hair.
Keeps the body firm and supple.
Hair oiling treatment is generally practiced before washing your hair or as an overnight treatment.
So, if you are thinking that you can you leave oil on your hair overnight, you definitely can.
In fact, it is best to leave it overnight as it allows oils to seep into your scalp and nourish it deeply
In Ayurvedic texts, there are mentions of specific herbs and oils that can help in hair growth and thickness.
According to Ananta Ripa Ajmera (certified Ayurveda practitioner in New York), such herbs are Hibiscus, Amalaki, Bhringraj, or Brahmi. Ajmera says regular oiling can reduce dryness and give your hair strength, shininess, thickness, and softness.
However, these herbs work best when applied with specific oils.
As much as oiling hair is important, the type of oil you use equally matters. There are several oils that can be used for hair oiling treatments and this is what we will be covering next.
Most Beneficial Oils For Hair Treatment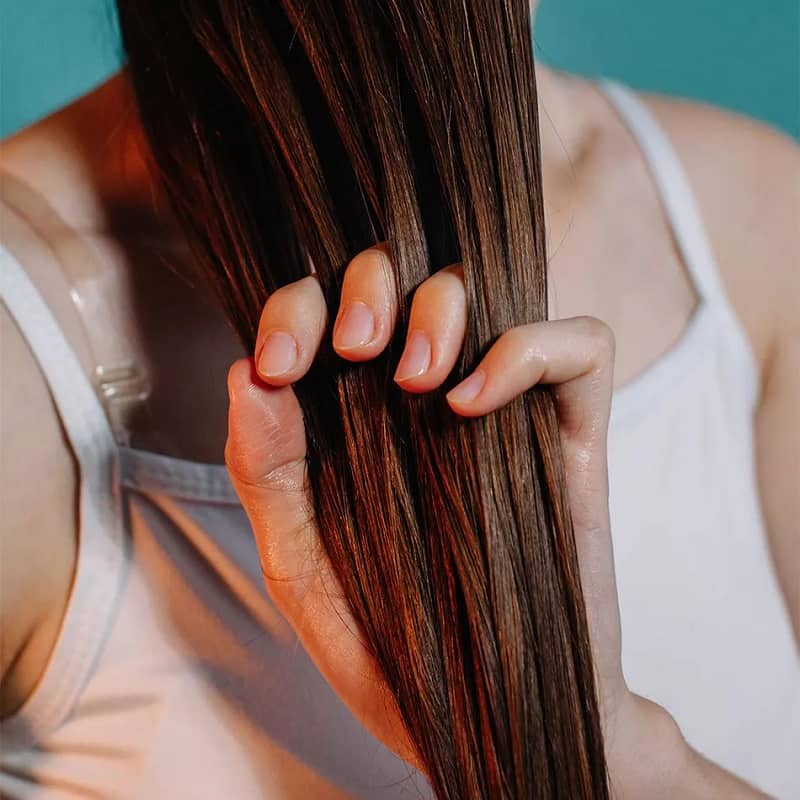 Hair oiling for hair growth is extremely beneficial.
But, the kind of oil you use can change your hair game completely. And, here are some potent hair oil for lustrous hair.
The texture of your hair is primarily determined by the three doshas i.e. Vata or wind, pitta or fire, and Kapha or water and earth. And, minimum time to keep oil in hair depends on the texture of your hair.
Moreover, oiling hair can help you manage these doshas resulting in shiny and healthy hair.
So, here is the list of best hair oils suggested by Ayurvedic experts for hair growth.
#1:

Coconut Oil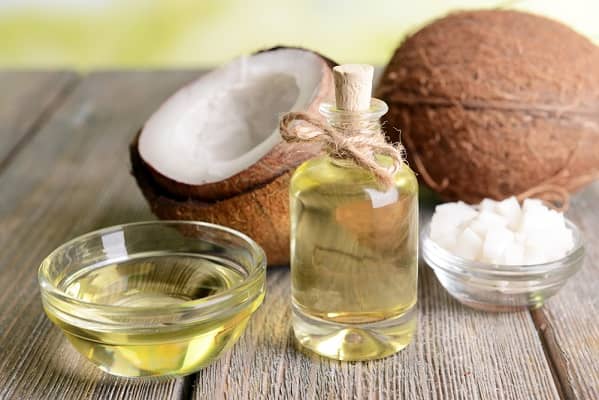 Applying oil to hair daily is good or bad depends on the oil your use.
Virgin coconut oil is the most extensively used hair oil across South Asia. So, if you are starting hair oiling treatment you can start with coconut oil, it suits all hair types.
Lauric acids the primary fatty acid present in coconut oil which allows it to bond with hair protein and penetrate inside the hair shaft easily.
This is why coconut oil is one of the best oil for hair treatment. It compensates the protein loss and restores hair growth even of damaged hair.
Coconut oil is in fact a very lightweight and not sticky oil.
So, if your concern is "how to sleep with the oil in hair"? Then one of the benefits of oiling hair overnight with coconut oil is it does not stain your pillowcase or sheets while deeply nourishing your damaged hairs.
#2:

Almond Oil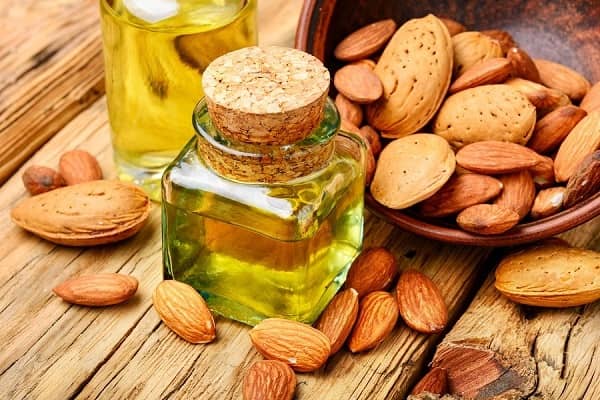 It is enriched with vitamin E which can reduce oxidative stress.
Stress is one of the major causes of hair damage and hair fall. Thus, Almond oil can help in improving your hair growth.
According to the National Institute of Health 34.5% of subjects showed improvement in hair growth after consuming vitamin E orally for eight months.
Thus, applying almond oil daily can help you stimulate hair growth.
However, almond oil is not as lightweight as coconut oil which comes as a disadvantage.
Almond oil also contains biotin or vitamin B7 which we all know works magically for hair growth.
Thus, overall almond oil works great as overnight treatment hair oil.
#3:

Bringraj and Amla Oil
On the basis of research, we can say that amla oil appears to be more than effective in keeping the hair stronger, lustrous with bye-bye to hair parasites.
Many hair growth supplements use it as a significant ingredient for healthy hair growth.
People with pitta dosha or dry hair can use a mixture of Bringraj and Amla oil.
It can essentially give them a cooling effect and manage their pitta.
One of the benefits of oiling hair overnight with amla oil is that it can delay the greyness of hair.
#4:

Jaborandi Oil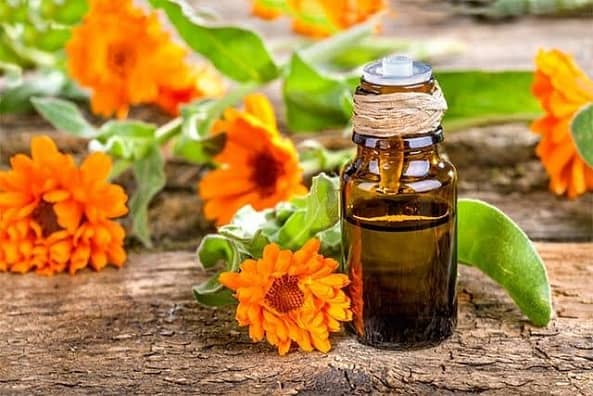 Another natural oil is extracted from a herbal plant found in the tropical forest of South America.
Having a lot of benefits for hair, it is a popular ingredient for shampoos and other hair products.
Studies have approved its therapeutic benefit for hair growth. Moreover, the oil nourishes the dry scalp while preventing the premature greying of hair.
The benefit of the hair oil extends to intense moistening. Jaborandi oil prevents splits end as well as dandruff.
In short, the hair oil fulfills different requirements for healthy and nourished hair making it perfect for the use of oiling.
#5:

Argan Oil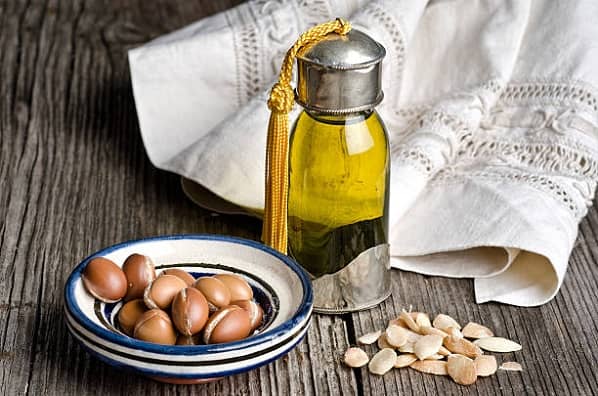 Commonly known as Moroccan oil, Argan oil has many benefits for better hair health.
In fact, it has an impressive nutrient value comprising an impressive quantity of vitamin A, C, and E. It also encompasses vital antioxidants and omega-3 fatty acids.
Regular application of the nutrient fill oil seems to be good.
Undoubtedly, we can expect benefits of oiling hair overnight, when it is Argan oil.
The oil works as a natural conditioner. Also, it helps strengthen your hair inside out from root to ends. This results in shiny healthy and strong hair.
#6:

Moringa Oil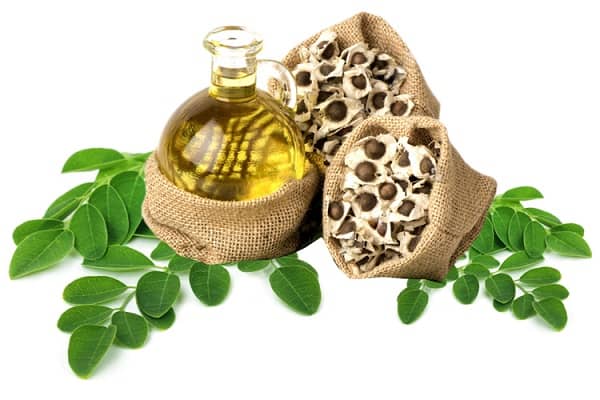 If you are facing a problem of dry and frizzy hair, nothing is going to benefit as Moringa oil. 
The natural oil functions as an intense condition resolving the fizziness making your locks smoother and healthier.
It comprises oleic acid in an impressive consistently. This makes the hair oil provide unbelievable moisturizing advantages.
However, applying the Moringa oil is a bit messy. We recommend the use of carrier oil such as coconut oil or almond oil for proper and effective use.
These were Ayurveda recommended hair oils but overnight oil treatment can provide a bunch of benefits that you might don't know.
So, we are moving on to oiling hair overnight benefits.
Top Benefits Of Oiling Hair Overnight
Although "when to apply hair oil before or after bath" and "how long to keep oil in hair before washing" can be stressing but, the benefits of oiling can conceal all the stress.
To simplify it for you, it is recommended by experts to oil your hair before your bath and to keep oil in your hair at least for an hour before washing.
Moving on to the benefits of overnight oil treatment for hair, here is everything we found from our research.
#1:

Hydrates and Nourishes Your Hair
One of the most damaging causes of hair fall can be dryness and dehydrated hair.
Dry tends to break easily or cause split ends that prevent hair growth. However, oiling hair overnight on a daily basis can promote softness in hair and stimulates hair growth.
You can add essential oils such as lavender oil or peppermint oil to almond oil and coconut oil.
This mixture of oils provides you with the required nutrients for your hair such as Vitamin B, K, and E, which deeply nourish your hair.
#2:

Prevents Hair Fall and Promotes Hair Growth
One of the most important benefits of oiling hair overnight is it significantly reduces hair fall.
This allows your hair follicles to regenerate new hair and prevent hair thinning which gives you the appearance of thick and voluminous hair.
Almond oil and coconut oil has especially proven to stimulate hair growth after applying them regularly as an overnight hair treatment.
#3:

Strengthens The Roots Of Your Hair
Oiling your scalp regularly can exfoliate and remove the dead skin from the scalp.
This helps in removing toxins from your hair and provides a clean environment for hair follicles.
The clean scalp can protect hair follicles from harmful bacteria and strengthen your root for better hair growth.
Strong roots result in better hair growth and lustrous hair.
Moreover, hair oils mixed with essential oils can replenish prior damage and provide lost minerals and vitamins to your hair.
#4:

Prevents Dandruff 
Daily hair oiling is good if you are struggling with dandruff or lice. Dandruff and lice are attracted to dry and flaky scalp.
If you have the heaping dead skin on your scalp or you sweat too much, the chances of dandruff and lice increase.
On the contrary,
If you oil your hair regularly it exfoliates your scalp and keeps it clean. This prevents any kind of lice infection or dandruff, giving you a healthy scalp and faster hair growth.
#5:

Prevent Bacterial Infections and Fungal Infections
Hair oils tend to have anti-bacterial properties especially if you mix them with tea tree essential oil or eucalyptus essential oil.
Anti-bacterial properties aids in preventing any kind of infection and accumulation of dead skin, allowing your hair follicles to rejuvenate naturally.
If you are suffering from a fungal infection you tend to struggle with excess hair fall or bald patches which can lower your self-esteem.
However, hair oils mixed with lemon essential oil can prevent such fungal infections, giving you healthy hair growth.
#6:

Helps Soften Curls
Curly hair dries quicker than normal hair. This increases fizziness making it unmanageable.
However, regular oiling of your hair with any of the above-mentioned oil can resolve the issue.
It can reduce fizziness while making your curls soft.  
#7:

Makes Your Hair Shinier and Soft
One of the most crucial benefits of oiling hair overnight is intense condition. This nourishes your hair inside out from root to the ends.
Not only it prevents different hair issues like dryness, split ends, and breakage, but makes your hair shinier and softer.
#8:

Thicker, Stronger, and Dense Hair
Other interesting benefits of oiling hair overnight come from the intense conditioning as well.
This provides adequate nourishment to your locks. Eventually, it makes your hair denser, stronger, and thicker.
These were some of the benefits of oiling hair overnight; it basically works as an overnight treatment for all your hair problems.
To avail these benefits to their optimum length, you must know how to apply oil to hair daily and when to apply oil to hair?
Tips To Oil Your Hair The Right Way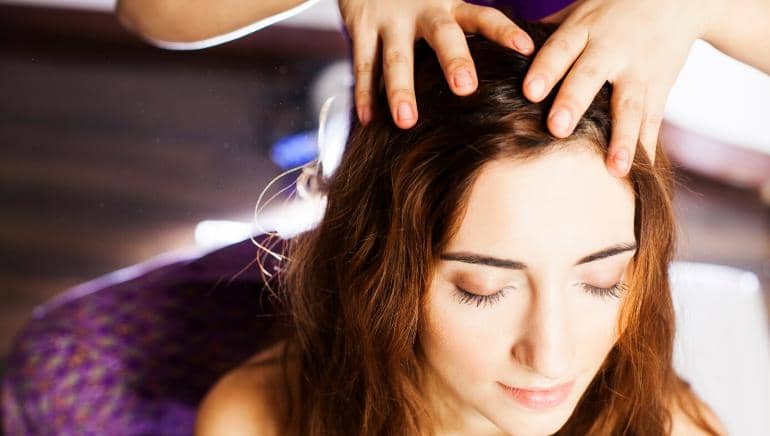 How you apply hair oil and when you apply oil to your hair matters a lot if you want your oiling treatment to work.
The benefits of oiling hair overnight are tempting but to avail such benefits you need to know how to put oil in your hair at home the right way.
One of the most asked questions that we came across was "can we leave oil on hair overnight"?
Yes!
You absolutely can in fact, if you have the time you must apply oil to your hair a night before washing them. However, the minimum time to keep oil in hair is an hour prior to hair wash.
But, how to apply oil to hair?
Here are some easy tips you can follow to optimize the results of hair oiling treatment.
Step 1
Choose the right carrier oil such as coconut oil, almond oil, amla oil, olive oil, etc. And, mix your choice of essential oil like lavender oil, tea tree oil, rose oil, etc.
Step 2
Heat your oil just for a few seconds to make it warm. Hot oil can penetrate through your hair cuticles and scalp easily. This helps in nourishing the roots and tips of your hair.
Step 3
Pour the warm oil on your scalp and start massaging gently with your fingertips. You can then move on to applying oil to the lengths of your hair.
Massage your scalp for at least 10 min, this helps in improving blood circulation.
Step 4
Hair oiling and hair steaming, if done together can increase hair growth instantly. You can simply wrap a warm towel around your head. This allows hair roots to strengthen and results in luscious long hairs.
Step 5
The last step is to simply rinse off the oils from your scalp. However, keep in mind to use a gentle hair cleanser and after applying the shampoo massage your scalp for 5 minutes. This gives the oil the time to break down and comes off easily.
Following these steps will help you prevent any disadvantages of oiling hair and optimize the results of hair oiling treatment.
Besides knowing the do's while oiling your hair, you need to know the don'ts.
Things Not to Do While Applying Oil Overnight
Just knowing the right steps isn't enough, you need to know what you shouldn't do.
Some action on your hair while applying oil can damage it. Eventually, it can hamper your overall hair health and appearance.
Here are the 6 key don'ts to receive maximum benefits of oiling overnight.
Don't Use Normal Oil: Warm It Up
Why oiling your hair when not heating it?
Warm oil easily penetrates the hair and scalps. This is why it provides deep nourishment and conditioning to your hair.
You can microwave oil for 10 seconds. Instead, put a bowl of oil in a bigger bowl of hot water to warm it up.
Don't Massage Too Hard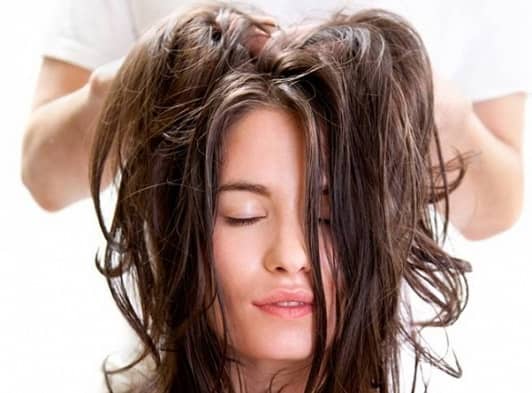 Massaging require light finger and elegant strokes.
Doing with a hard hand can damage your hair and even cause hair breakage.
Perform a soft massage in a circular motion for quick benefits.
Don't Massage Tangled Hair Comb It First
Whether your hair is tangled or not, massaging doesn't have any specification.
Still, oiling knotted hair can further aggravate the damages. It is necessary to comb out your hair in the first place to avoid damage.
Don't Use Simple Oil. Create A Blend Of Your Fav Ones
In general, people prefer using one oil. However, mixing one or more oil can provide you better results.
You can create a mixture of one or more oil to advance your hair health.
Don't Try Hair Tightly Post Oiling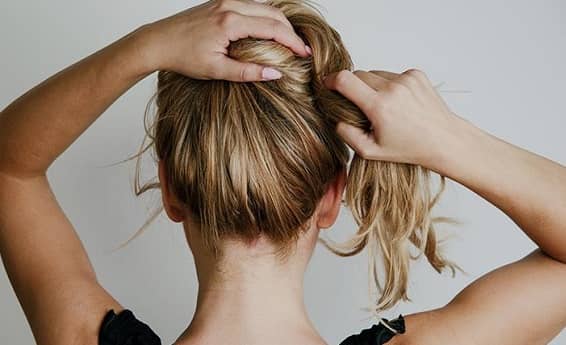 After oiling, the hair roots tend to open up and loosen up a little bit. So, once you are done with hair oiling, you should not tie it up.
It can exaggerate the breakage and damage.
Don't Use Fingertips Instead Use Cotton
Usually, people prefer oiling with their fingertips. Using a cotton ball instead, provide better oil flow for both hair and scalp.
Dip a piece of cotton in warm oil, remove excess amount, and rub it to your scalp and hair length.
Don't Oil Hair Way Too Often
Excessive oiling is in no way beneficial. It can irritate your scalp stripping off the hair of its natural moisture and sheen.
Thus, never oil your hair more than twice a week.
Don't Concentrate Only On the Scalp
To receive maximum benefits of oiling hair overnight, the hair should spread evenly across your hair length and scalp.
In short, when applying your hair make sure it doesn't reside on your scalp only. It can have a negative impact on your overall hair health.
Don't Leave It On Long Enough
Hair oiling is beneficial only when you leave it for some time or if possible overnight.
Rushing for head wash immediately won't benefit your hair at all.
Don't Begin Heat Styling After The Treatment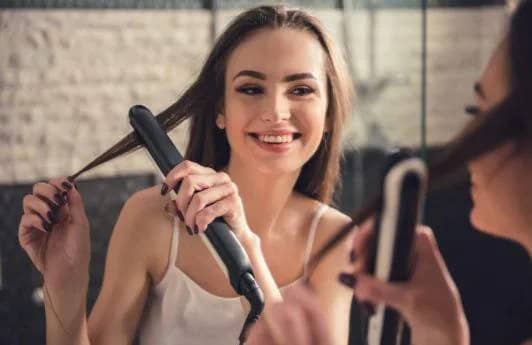 Hair oiling nourishes your hair inside out providing maximum condition. This doesn't mean your hair is ready for intense styling.
It will dry up your hair invalidate the immense benefits of oiling hair overnight.
Not only perform do's of hair oiling but keep up to the don'ts. This will only ensure maximum hair health by regular application of hair oil.
Benefits Of Oiling Hair Overnight – FAQs
Are you still perplexing whether you should try overnight oiling treatment for hair or not?
Don't worry!
We are here to help you out. We will be answering an array of FAQs to clear your confusion.
#1:

Which Oil Is Best For Hair Overnight?
When it comes to applying oil to hair before sleep, the best choice would be Almond oil.
Almond oil consists of omega-9 fatty acid that has the potential to stimulate hair growth and bring back shine to your dull hair.
Besides, almond oil is enriched with Vitamin E, which prevents hair breakage and promotes the strengthening of hair follicles.
#2:

Does oiling hair daily is good or bad?
Although overnight hair oiling treatment can give you stunning results, as we know excess of anything is bad for health.
The same applies to oiling hair daily. So you must be thinking "How many times should I oil my hair in a week"?
You can start with applying oil to your hair once a week and go up till applying 3 days a week.
#3:

Can you sleep with the oil in hair?
Ayurveda recommends oiling hair overnight for lustrous, long, and thick hair. This simply means you can sleep with the oil in your hair.
However, if you don't have the patience or time for an overnight treatment, the minimum time to keep oil in hair is an hour before washing it off.
#4:

When is the best time to apply hair oil?
The best time to apply hair oil is the night before you are taking a head bath.
Leaving oil overnight allows the oil to deeply nourish your hair and scalp.
A nourished scalp ultimately results in beautiful, thick, and shiny long hairs.
#5:

Can we leave oil on hair for 3 days?
The benefits of oiling hair overnight can bring life to dull hair whereas leaving oil on hair for 3 days can turn it into disadvantages of oiling hair.
Leaving oil on hair for three days can attract a lot of dust and pollution. These dust coats over your hair weighing it down and causing hair fall.
#6:

What Grows Hair Faster?
For faster hair growth
keep your protein intake in check,
practice scalp massage twice a week,
add essential oils for overnight oil treatments, and
practice yoga poses for hair growth.
Certain yoga poses can do wonders for your hair growth. Especially, yoga which involves forward bending and stretching.
#7:

How long should you leave the oil in your hair?
After oiling your hair, you should leave it for 10-15 minutes.
For best results, you should leave it overnight to nourish your hair inside out.
The next day, wash your hair with the usual shampoo and condition it.
Indeed, an oiled scalp for a long time is good, but leaving it for more than a day attracts dirt. This can make it scalp and may induce hair fall.
#8: 

How to apply oil to the hair properly?
For maximum benefits of oiling hair overnight, you should oil your hair using the proper technique.
Here's how to properly apply oil.
Apply less on roots and more oil on the scalp.
Smear the last bit on the tips.
Part your hair and apply oil one by one on the parted areas.
Never rub oil on your hair, it can break your hair
If possible steam your hair after oiling
These are simple ways and the right technique to apply oil to your hair. Keep this in mind for proper application regularly.
#9:

Should we comb hair after oiling?
No!
You shouldn't comb your hair after oiling. It does relax your scalp instantly.
However, it is delicate, may induce hair fall as the root loosen post massaging.
With this, we have come to the conclusion of the benefits of oiling hair overnight.
Conclusion
Hair oiling treatment is one of the oldest remedies for dull and damaged hair.
So, if you have been neglecting your hair and not giving them enough love, this is the way to start giving them the care that they deserve.
Oiling hair is an absolute doddle to do and the benefits of oiling hair overnight can bring life to your lifeless hair.
So, what are you waiting for?
Roll up your sleeves, pick oil and start your hair therapy.
As much as it will help you compensate for the damage you caused your hair after styling and using heating tools, it will also de-stress you and keep you cool. Thus, we recommend starting your hair oiling treatment ASAP.
Do not forget to follow our guide to long, lustrous, shiny, and thick hair.
Thanks for reading!