Can You Eat Dark Chocolate If You Have Diabetes? [Pros & Cons]
Allen Hicks
Is dark chocolate good for diabetics? Continue reading the research-driven article digging the real link between dark chocolate and diabetes.
Diabetes patients have the most restricted diet plan. They don't have much sugar forget about having a piece of chocolate.
The latest reviews and studies show dark chocolate might benefit diabetic conditions. They investigated the dark chocolate insulin resistance phenomenon and affirmed the positive effect.
Still, can you eat chocolate with type 2 diabetes?
It will be too early to put forth any opinion on things we have just heard.
Let's dig out the real fact by thorough investigation on the effect of dark chocolate for diabetics.
Is Dark Chocolate Good for Diabetics?
Among all the varieties of chocolates, dark ones are the best.
They contain cocoa, the raw ingredient for chocolate preparation, in greater quantity. This makes it distinct from other types of chocolates.
Some variants of dark chocolate may contain nuts and almonds. They will be more beneficial for your overall health.
Establishing results between dark chocolate and diabetics.
Generally, the snack is beneficial for its nutritional value coming from the high amount of cocoa. Also, dark chocolate contains the least quantity of sugar preventing the nasty effects of sugar for diabetic patients.
Its nutritional value shows a high presence of polyphenols. The compound has impressive antioxidant effects.
Indeed, it helps from the damages occurring due to radical molecules. Besides, it benefits insulin sensitivity to regular blood sugar levels.
The higher the insulin sensitivity, the lower is the risk of developing diabetes.
A study published in Appetite investigated the effects of dark chocolate intake in diabetic patients.
People consuming the snack once a week had a lower risk of health conditions. On the contrary, people who consumed dark chocolate less than once a week had two times greater risk of developing the onset of diabetes.
A review has shown how dark chocolate can benefit diabetic patients.
The snack has a high consistency of polyphenols benefiting insulin resistance. This reduces the risk of developing a health condition.
The above discussion clearly favors dark chocolate benefits for diabetes. The low-calorie and nutritious snacks keep you healthier.
Still, not every chocolate labeling them as best dark chocolate for diabetics is worth it. Dark Chocolate has quite a few other auxiliary health benefits that you get to know.
Diabetics Can Eat Dark Chocolate! It's Time to Rejoice!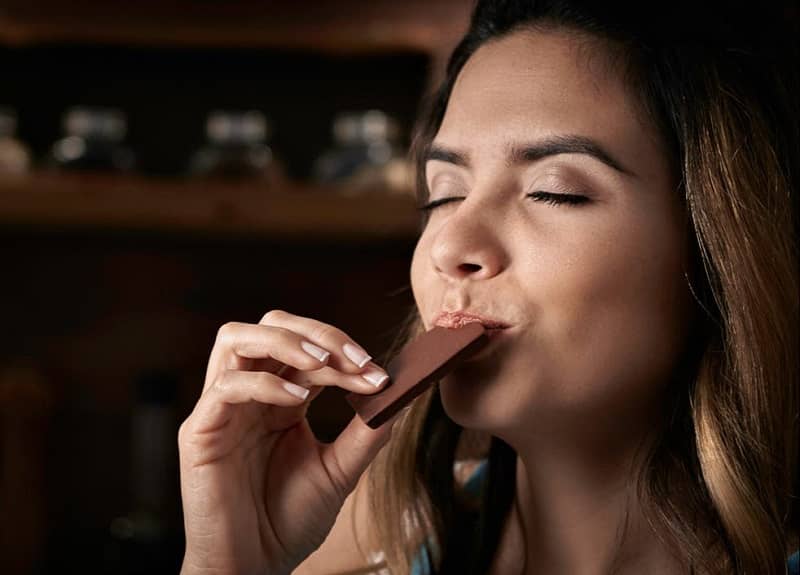 Aside from the rising number of diabetes cases and the 1.6 million fatalities caused by the disease each year, one would believe that this would result in a decline in the overall consumption of chocolates.
As chocolates are one of the most widely consumed forms of sugar or sweets in general, it's not wrong to expect this. However, that's not the case.
In fact, chocolate consumption has increased year after year.
While this tendency is concerning, there is a silver lining to it.
Dark chocolate, or chocolate with a cocoa content of 50% or higher, has been proven to have a number of medical properties that can help persons who have a sweet tooth.
We've compiled a list of five health benefits of consuming dark chocolate bars on a daily basis, in moderation, of course.
#1:

A Potent Antioxidant Source
Unprocessed cocoa beans and dark chocolate are among the world's most powerful antioxidant sources, outperforming even blueberries and the well-known superfood Acai berries.
Polyphenols, flavonols, and catechins are just a few of the antioxidants found in dark chocolate.
Antioxidants are crucial because they battle free radicals, which harm living cells, cause premature aging, and increase the risk of heart disease, cancer, and other diseases only by being there.
#2:

Dark Chocolate is a Nutrient-Dense Food.
Apart from being a rich source of antioxidants, chocolate has a number of other medical properties, despite its association with diabetes and obesity.
At least the sweeter and milkier version.
Dark chocolate, which is more bitter and flavorful, is actually packed with minerals including magnesium, copper, manganese, potassium, phosphorus, zinc, and selenium., fibre, and only a little sugar.
#3:

Can Aid in Insulin Sensitivity Improvement
Dark chocolate can help increase insulin sensitivity and resistance, according to a 2005 study published in the March issue of the American Journal of Clinical Nutrition, however white chocolate (0 percent cocoa, all cocoa butter) cannot.
The researchers invited 15 healthy people to eat either dark or white chocolate bars for 15 days, then wash out for seven days before switching to the other chocolate.
#4:

Blood Pressure Can Be Reduced by 2-3 Points
People with hypertension, who are typically advised to limit their intake of all types of sweet and flavorful foods, will be delighted to find that dark chocolate can drop blood pressure by up to 2-3 points.
Dark chocolate bars containing at least 50-70 percent cocoa were found to reduce blood pressure in all participants in a Harvard study that evaluated 24 chocolate studies including 1106 persons.
Those with hypertension, on the other hand, saw the most dramatic reduction. Chocolate also boosted the subjects' insulin sensitivity, according to the study.
#5:

Increase Good Cholesterol and Lower Bad Cholesterol
Dark chocolate, when consumed in moderation, can be helpful to your heart.
According to a study conducted at San Diego State University and presented at the Experimental Biology 2012 meeting, eating dark chocolate can help lower a person's blood sugar levels.
It can simultaneously lower"bad" cholesterol levels and increase "good" cholesterol levels as well.
Therefore, you don't need to let go of your favorite chocolates even if you are diabetic.
Sure, you need to cut down on sweets but a few bites of sweets compensated with a  healthy lifestyle plan is not bad at all.
Therefore, it becomes important to know how to stop the right dark chocolate.
How to Buy the Right Dark Chocolate for Diabetes?
Dark chocolates are good for diabetes. This doesn't imply to each brand claiming to be one.
In fact, most of these products don't even have the right quantity of cocoa to be called one.
While others are loaded with sugar and have poor nutritional value. Buying such a variety of dark chocolate will only hamper your health.
Here's how to buy dark chocolate for diabetes.
#1:

 Look for cocoa quantity
Most diabetic chocolate bars make false claims to be one. They have less than 30% of cocoa as a key ingredient.
Meanwhile, they are full of surplus sugar. Such a type of dark chocolate is not worth using.
Thus, look for dark chocolate having equal to or more than 70 % cocoa. 85% dark chocolate diabetes is best.
#2:

It should have no added sugar.
Dark chocolates are low-sugar and nutrient-dense.
Apart from the cocoa in high quantity, these attributes maximize the benefit for diabetes. Low sugar helps keep the insulin lower.
On the other hand, the nutrient present in the snack benefits your health. Always prefer low-sugar, nutrient-dense dark chocolate only.
#3:

It shouldn't have additional sugary ingredients.
Manufacturers keep on introducing new variants of dark chocolates.
Addition like nuts, almonds, cashew, etc., increases the nutritional value of dark chocolate. On the contrary, other addition can trigger your sugar level.
Beware of caramel, toffee, or other sugary add-ins in your dark chocolate. Avoid these as they load surplus sugar causing major health issues.
#4:

Switch to sugar-free cocoa powder or cacao nibs. 
You subside your chocolate treats without adding loads of sugar.
Replace your regular cocoa powder and cacao nibs with sugar-free variants. This frees you from the surplus sugar which can hamper your health.
Meanwhile, the benefits with additional iron and magnesium present in them.
#5:

Go through their nutrition table.
Most times skipping the nutrition table can be a bad deal for you.
For instance, it can help you know if sugar free chocolate for diabetics is really sugar-free.
Or, does it have 70% cocoa? Or, what nutritional value it is aiding to your health?
The simple guide help makes a better decision when it comes to choosing the right dark chocolate.
A sugar-loaded snack can increase your blood sugar level. This can worsen your diabetic condition. Thus, you need to be conscious of your eating choices.
Is dark chocolate good for diabetics? Certainly, it is. It depends on how you are using it.
Diabetics Can Eat Dark Chocolate: Here's the Rule!
Eating dark cocoa bars is good for diabetes. This doesn't mean munching it as daily evening snacks.
Indeed, this can lead to unknown circumstances. Even this chocolate variety has sugar in a fixed quantity.
In the long run, its supply can hinder your blood sugar level for obvious. Other situation also exists, which we aren't aware of.
Thus, when having dark chocolate, you need to keep a few things in mind.
#1: Firstly, buying the right dark chocolate i.e., a low calorie nutrition-dense dark chocolate with 85% of cocoa in it.
Refer to the above guide to buy the right one. Look for the following aspect as well
Opt for sugar free best chocolate for diabetics
It should contain fiber and sugar in the same quantity
Have only unprocessed dark chocolate
#2: Secondly, shop for only branded dark chocolate as they present the right nutritional value.
This will prevent the unforeseen effect of unbranded dark chocolate with unknown ingredients.
#3: Thirdly, keep the intake in moderation. When having don't have more than an ideal quantity a day.
Also, the weekly frequency should be in moderation.
Whether having dark chocolate for benefiting your diabetes or your health in general, the rules are going to aid your health ultimately.
After all dark chocolate benefits are immense.
Dark Chocolate Consumption: [Pros and Cons]
The sweet chocolaty taste may be a change for your diabetic tongue. The snack has many health benefits to offer.
In fact, moderate consumption of Dark Chocolate can change the dynamic of your health.
Let's discuss the pros and the cons of consuming dark chocolate frequently.
The Pros: Chocolate Benefits
Frequent intake of the snack is good for diabetics.
Meanwhile, its excellent nutrient value aids your overall health as well.
The snack has an impressive amount of flavonoids. The natural compound limits insulin resistance. Ultimately, it benefits your diabetic condition.
The snack fights off the decline in blood clotting.
Flavonoids boost endothelial function reducing insulin resistance. This limits the risk of cardiac diseases.
The benefits of dark chocolates are immense. The nutritional value and presence of minerals and vitamins make it more powerful.
Still, downsides can appear once you surpass the limit of consuming dark chocolate.
The Cons
Not all products claiming to be chocolate are one.
Milk chocolate and diabetes type 2 relation are different than the link between dark chocolate and diabetes.
Here are the downsides of having chocolate regularly.
Excessive consumption of milk and white chocolate can hinder your health. If you are diabetic, the condition can worsen.
Chocolate cake or chocolate chip cookies can further exaggerate the condition. Instead of regular chocolate use a square of dark chocolate in the recipe. This prevents the long-term health risk associated with normal high sugar chocolates.
Having a snack frequently can increase your blood sugar rapidly. In a few cases, a sharp increase in stored fat was observed.
Whether chocolate benefits or downsides, it entirely depends on the quantity of the snack.
If you keep moderate, small, and frequent, the benefits embrace your health. On the contrary, excessive daily consumption of chocolate can lead to vicious side effects.
Apart from switching to dark chocolate, you need to make major changes in your chocolate recipe.
Chocolate Recipes: Switch to Healthier Alternatives!
Can diabetics eat cake and ice cream?
Yes!
A few changes in the normal recipe of regular chocolate recipes can make it work.
Switch the regular cocoa powder with a healthier alternative to reap maximum benefits. Also, which to a healthier dark chocolate nibs.
Here's how you can keep the chocolaty flavor in your desserts without compromising your health.
Brownies: for flour use a healthy option like oats mixture. Add some cubes of dark chocolate and your high-fiber, gluten-free brownies are ready.
Peanut butter and chocolate: shop for the no-bake peanut butter and chocolate bites. They contain 85% cocoa dark chocolate with the taste of peanut butter
Chocolate Shake: instead of regular chocolate use dark chocolate. Replace your sugar with honey or a better alternative. Or use fruits and berries for natural sweetness.
Chocolate Ice Cream: try sugar-free chocolate ice cream powder. Also, add nuts like almonds, cashew, and peanuts to increase the total nutritional value of the chocolate recipe.
Cookies: replace the regular chocolate chip cookies with gluten-free quinoa chocolate chip cookies. The healthier diabetic chocolate recipes have a richness of fiber with the goodness of chocolate
Chocolate cake: replace the regular cocoa powder with a sugar-free variant. Use dark chocolate instead of regular once. You can also use healthier flour for preparing chocolate cake without compromising your health.
The recipes are a good way to keep chocolate desserts at your dinner table without affecting your condition.
Keep the intake in moderation to regulate your blood sugar level.
Is dark chocolate good for diabetics? Yes, it helps your condition and our affirmation requires no more assurance.
Dark Chocolate and Diabetes – FAQ's
Dark chocolate is good for diabetes. However, there are a few questions requiring explanations.
Here, we've taken such few assumptions.
Q1:

How much dark chocolate can a diabetic eat per day?
You can have a single serving of dark chocolate which is around ¾ to 1 oz. Anything more than this won't benefit.
Instead, the increased intake may hamper your health condition with unprecedented downsides. As it can polarize your blood sugar level.
Q2:

Can diabetics eat chocolate cake?
Yes, you can have a chocolate cake even you are diabetics. Your recipe requires a few moderations to help rejoice in the chocolaty taste.
Replace regular cocoa powder with sugar-free variant, regular chocolate with dark ones. And you are set to have chocolate cake.
Q3:

Is 70 dark chocolate good for diabetics?
The best chocolate for diabetes is one with more than 70% cocoa. Moreover, 85% of dark chocolates are a better and finer option.
Go for a sugar-free and nutritionally dense snack to reap out maximum benefits.
Q4:

Does dark chocolate increase blood sugar?
Dark chocolate is the healthiest option among all sweet snacks. Not only it has a maximum quantity of solid cocoa, but less sugar and immense nutrients.
These are better than normal milk chocolate, which with high sugar content can hamper your blood sugar level. In other words, it is definitely a better option.
Q5:

How fast does chocolate raise blood sugar?
Once you take dark chocolate, it delays the spike in your blood sugar level.
You need to wait for the next 15 minutes to taste your blood sugar level. Meanwhile, your body requires some time to adjust to the new situation.
Q6:

Is cocoa good for diabetics?
Cocoa encompasses a natural compound capable of treating or regulating type 2 diabetes.
It increases insulin generation. Also, it helps in managing blood sugar levels.
Such benefits are available when the consumption of the best quality cocoa remains in moderation.
Q7:

Can you eat chocolate with type 2 diabetes?
Yes. You need to switch to dark chocolate with 85% cocoa in them.
To buy the right type of chocolate to benefit your condition, you can take the help of the guide we have shared above.
Q8:

Where to buy diabetic chocolate?
You can buy diabetic chocolate through online stores. or visit nearby retail stores. prefer dark chocolate with 70% or more cocoa.
Also, make sure they don't contain added sugar and are nutrient-dense.
Our blog ends here. Certainly, there is a rink between dark chocolate and diabetics. Our final overview will provide concise detail.
Final Thoughts: Is dark chocolate good for diabetics?
Whether it is chocolate or anything else, excessive can lead to worse circumstances.
The latest studies so far support the idea that maybe a moderate intake of dark chocolate may not be bad for diabetics. Instead, it may lower the risk of developing the onset of diabetes.
Still, more findings are required to establish such assumptions.
One thing is sure that the dark cocoa snack does benefit your health in plenty. But, there are some conditions.
You have to buy chocolate with 85% cocoa
It should be sugar-free
Nutrient-dense
Frequent intake in small dosages
Overall, the consumption should be in moderation
Keeping these few things in your mind can help reap the maximum benefits of dark chocolate.
While variants with caramel won't benefit as it loads you with surplus sugar. On the contrary, variants having almonds, nuts, and cashew outgrows your benefit of the regular.
In short, buy your dark chocolate wisely.