Mindy Kaling Reveals Her Weight Loss Journey and Healthy Eating Habits
Allen Hicks
Remember Elsa from Frozen?
Well, that's how Mindy Kaling looked while attending the Vanity Fair's Oscar after-party.
We are not the only ones to think that. Her daughter feels the same!
The drastic and oh so wow weight loss transformation of The Office alum shocked the world. 
Not to mention, the actress and comedian have always gracefully handled her weight.
However, Mindy Kaling's recent weight loss was quite the talk of the town.
Talking about how Mindy Kaling lost weight, she told PEOPLE,
I've tried really hard to let go of this idea of losing weight for vanity reasons and really trying to think of how I can be healthy.
Well, isn't it what we all want to do when trying to lose weight?
Looks like Mindy cracked the code. So…
How Did Mindy Kaling Lose So Much Weight?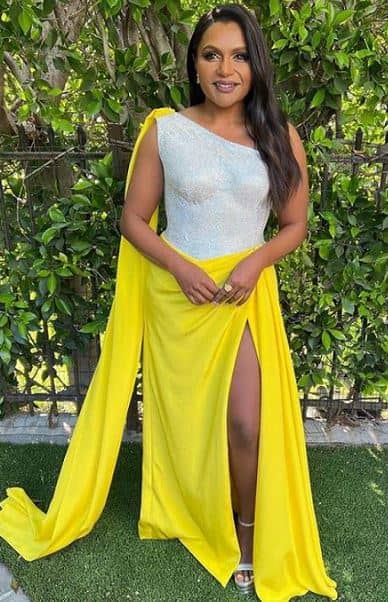 As per Mindy, the Propel fitness water partner, healthy is about working out.
She also made sure she was moving her body as much as possible and staying hydrated enough.
Working out is not just about the body, and Mindy Kaling weight loss proves the same.
Kaling made sure she doesn't have any negative connotations around her.
Contrary to what others find motivating, the Mindy Project star didn't rely on, "If I don't do this, then I won't be something else."
Fitness has been in Mindy's life since she was 20.  However, it took her too long to shed the old idea before she took up the weight loss.
Talking about her idea of fitness, she said, it was about 45 minutes treadmill and a 7-minute mile.
She felt like punishing herself and she needed to hate it.
The Office star transformed her workout from being miserable to enjoyable. 
But how did that happen?
Mindy's Healthy Relationship with Exercise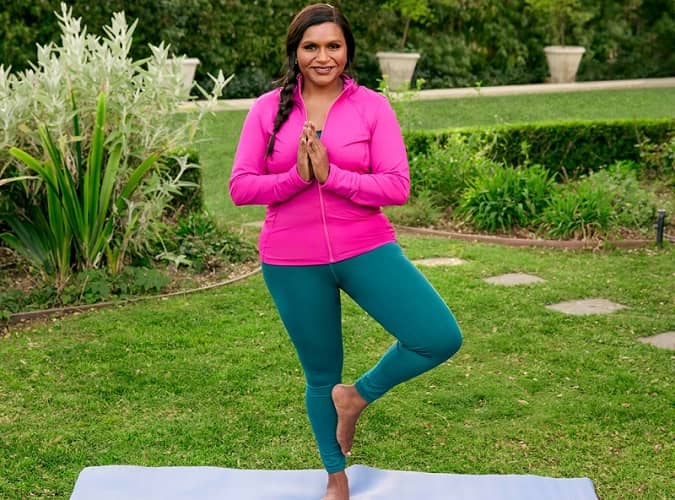 Mindy is no longer obsessed with feeling miserable while exercising.
She likes to mix and match her routine with different exercises, which she believes are good for her body.
When it comes to working out, she opted for walking, jogging, yoga, Pilates, tai chi, and more. 
The 42-year-old's Mindy Kaling weight loss regime is far from those punishing fitness regimes.
Kaling said,
I've really been mixing it up.
She further added,
knowing that if a workout doesn't necessarily make me soak my clothes with sweat, that it still was a good workout… It does not have to be punishing.
If Mindy can get over the grueling idea of exercise, so can you!
Being a mother of two, Kaling really needed something like that to remain active with her kids.
Now that's not something common. It really requires an open mind to not be a sheep.
Moreover, growing up, working out was not a norm in her household.  Nevertheless, she now feels more confident and focused. 
As per her, she finds new creative ideas while working out."
So that's how Mindy Kaling loses weight.
But still, that can't be it.  What about Mindy's weight loss diet?
Mindy Kaling Weight Loss Diet Secrets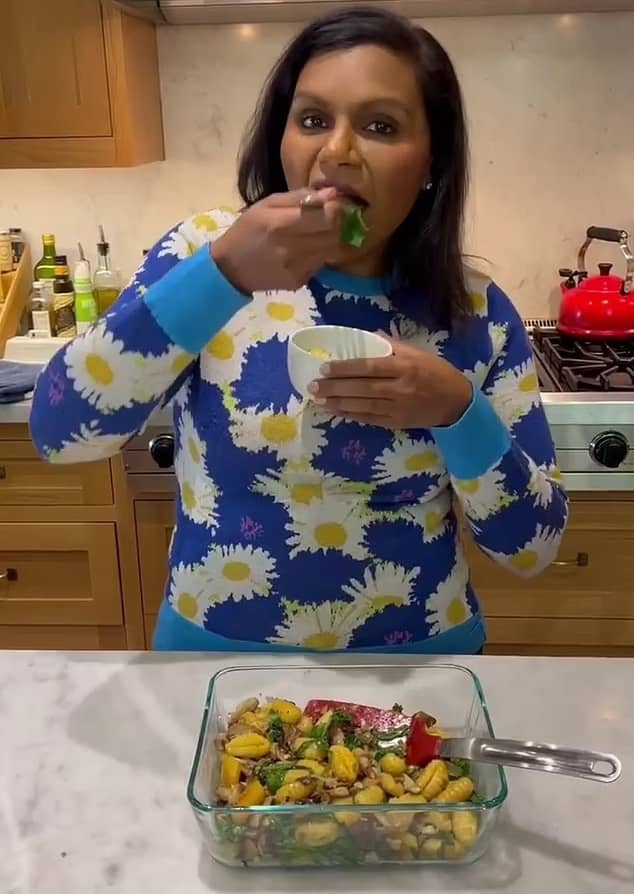 Talking about her recent weight loss journey to ET, she said,
I didn't really do anything differently. I eat what I like to eat.
So, what does Mindy Kaling eat then?
Did she achieve it all without any weight loss diet?
When it comes to Mindy Kaling weight loss diet, the 42-year-old tried something new i.e., moderation. 
As per Mindy, she can really never stop being a foodie. Eating spinach and salmon every day is not just her thing.
We all can relate to Mindy here, for sure!
Explaining her diet, Kaling said,
I just am really for the first time in my life, trying moderation, and I love it.

Mindy Kaling was candid about her body weight!
After delivering her second child during the lockdown, she didn't rush to lose the pregnancy weight.
The Never Have I Ever creator made some small changes and it worked for her.
According to her, she didn't do anything differently.
If I do any kind of restrictive diet, it never really works for me. I just eat less of it.
Take note fellas!
Eating less is more.
A lot of women love the movement and how good it makes them feel. However, they don't really feel confident, says Mindy. 
But Mindy being her, decided to own it all!
And that has been a turning point in her life. Well, we love your mindset queen!
Mindy Desire's to Simply be Healthier and Enjoy Working Out
The sitcom legends weight loss is inspiring in a lot of ways.
It's less about what diet is Mindy Kaling on, and more about her mindset.
Her overall idea of health and wellness changed when she started enjoying the workout. 
It was not more about punishing herself to fit in the society's ideal weight for a woman.
Kaling simply desired to be healthier. With this intention, she did what suited her mind and body the best. 
Her recent insta stories reveal that her diet still includes potatoes. 
As per her, she would love to be the size she was when she was 32. However, she doesn't really beat herself up.
As long as she is getting enough nutrients and her heart and lungs have enough exercise, it's all good.
Moreover, her whole idea was to improve her health rather than lose weight.
Mindy Kaling Weight Loss is No Less Than an Inspiration
Mindy Kaling with her weight loss regime broke a lot of misconceptions.
The most important thing to learn is, that it's the mindset more and the physical activity less that makes the changes. 
If your mind is not healthy, you can't achieve a healthy physique.
According to Kaling,
walking was her favorite cardio type. She aims to move her body seven days a week. Even if she has 10 minutes, she likes to walk instead of sitting.
So, how much weight did Mindy Kaling lose?
Well, when asked about it, she said, she didn't really weigh herself.
She further says,
I wish there was something more juicy or dynamic about the way that I've lost a little bit of weight, but that's the way I've done it.
Well, we beg to differ Mindy!
And that's how Mindy rocked her yellow and silver stunning Dolce and Gabbana thigh-high slit dress.
What do you think about The Office star's weight loss? Let us know in the comment section.
READ MORE
Chrissy Teigen Weight Loss Diet and Workout Plan 2022
Megan Thee Stallion Amazes Instagram With Her 3-week Transformation