Best Anti Aging Superfoods to Keep You Youthful and Healthy
Allen Hicks
Rejuvenate your body from the inside and out with anti aging foods!
According to modern science, an imbalanced diet and poor dietary habits are the proximal causes of skin aging.
A diet is a regulatory factor for your skin as it can both repair and damage the skin.
It's you who got to mold the diet in a way that turns out beneficial for you.
In recent years there have been many clinical studies and researches to identify the right modification for a diet to be healthy for the skin.
According to such researches, your skin needs nutrients like:
Water – for maintaining the balance of tissue function and keeps it hydrated
Trace minerals – for skin immunity and inflammation, the proliferation of new cells to prevent aging, protecting skin from damage caused by us
Vitamins – to synthesis collagen and keep skin from becoming fragile
Proteins – to construct and repair skin tissues
A diet rich in all these nutrients forms a diet that makes your skin glow and rejuvenates it to fight aging signs.
Making diet management pretty much easier for you, here we have the best anti-aging foods that reverse wrinkles and aging signs to help you through healthy breathing skin.
Best Anti-Aging Foods that Prevent Wrinkles
Some of the primary causes of aging include:
Lifestyle
Social behaviors
Diet
Dehydration
Excessive alcoholism
Out of all these, the most important factor is the diet as what you eat reflects on your skin.
Skin is the most exposed organ of our body and needs protective nutrition to be defensive against harsh environmental factors.
Some of the vital nutrients that your skin needs are:
Antioxidants
Fats
Water
Minerals
Vitamins
And other micronutrients
However, our diet mainly focuses on macronutrients and ignores an adequate quantity of the fine minerals and vitamins that our body needs.
But since the skin needs some specific nutrition, here we are to modify your diet into a healthy anti-aging diet!
Before we plan a whole diet for you, we must highlight what qualities an anti-aging food must behold:
Should contain a diversity of vitamins
Ellagic acid
And with that here we have the list of best foods that make you look younger and prevent aging signs from showing up.
Best Foods to Prevent Wrinkles and Make Skin Look Younger
#1.

Kale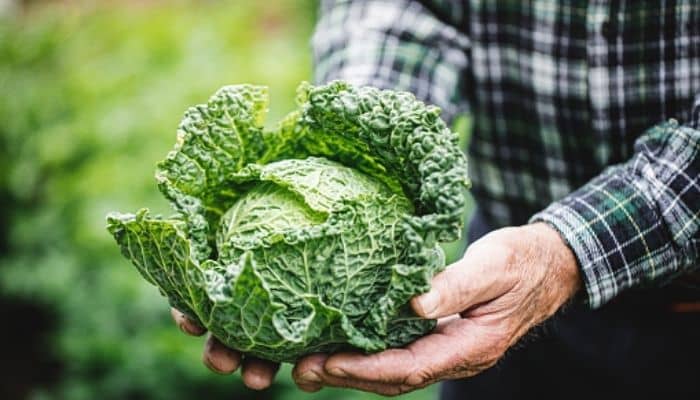 Kale is rich in lutein and zeaxanthin, the carotenoids found effective in:
Boosting skin elasticity
Improves hydration of the skin
Enhances the fat quality under your skin
This makes your skin more youthful and bouncy.
Further, lutein can act as a protective shield for your skin by protecting it from blue light which has a harmful wavelength and can damage the skin.
#2.

Avocados
Avocados contain monounsaturated and polyunsaturated fats that provide nourishment to your skin and also prevent dryness.
Other benefits of avocados:
Have anti-inflammatory properties strengthening your immune system
Contains lutein and zeaxanthin that protects skin from harmful UV rays
High amounts of healthy vitamins found like Vitamin A, B, C, E, and K
Makes your skin glow and be healthy
The best way to extract healthy nutrients from avocados is by adding them into your salads or making a pudding adding a healthy proportion of avocados.
#3.

Dark Chocolate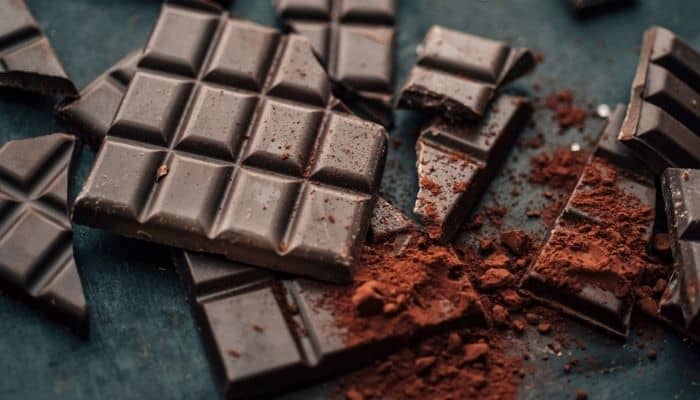 The tastiest food to avoid wrinkles is dark chocolate with amazing g anti-aging properties.
These properties come from its main ingredient cocoa that has anti-oxidants capable of fighting UV exposure.
They can also reduce the inflammation caused on the skin because of excessive exposure to UV rays.
Other benefits:
Increase blood circulation to your skin
Keep your skin moisturized
Make your skin glow
Improves the quality of sleep for a healthy and fresh skin
Reduces stress and prevents wrinkles
However, before picking up your dark chocolate make sure to read out the sugar content.
A bar of chocolate with too much-added sugar can reverse the benefits of skin damage.
According to studies, sugar affects the collagen fibers of your skin making it lose elasticity and show aging signs like saggy skin.
#4.

Spices
Ancient remedies have used a variety of spices for their skin remedies.
Spices have lipoic acid that has antioxidant properties.
It contributes to healthy and glowing skin by stimulating the release of antioxidants that fight oxidative stress and prevent damage to collagen cells.
Though lipoic acid is already present in your body, adding up more levels of it by natural foods can prove to be more beneficial.
Some of the common spices healthy for the skin are:
Oregano
Cinnamon
Cloves
Turmeric
#5.

Broccoli
Adding broccoli to your salads can now act as a natural skin care remedy.
With rich anti-inflammatory and anti-aging properties, broccoli tops the list of 10 Anti-Wrinkle Foods To Eat as suggested by health experts.
The high content of Vitamin K and Vitamin C gives it enough anti-oxidants to prevent any wrinkles.
Since Vitamin C takes part in the synthesis of collagen it also gives skin more elasticity and better strength preventing the aging signs.
Apart from this the fibers and calcium would also shower your body with many health benefits.
#6.

Red Wine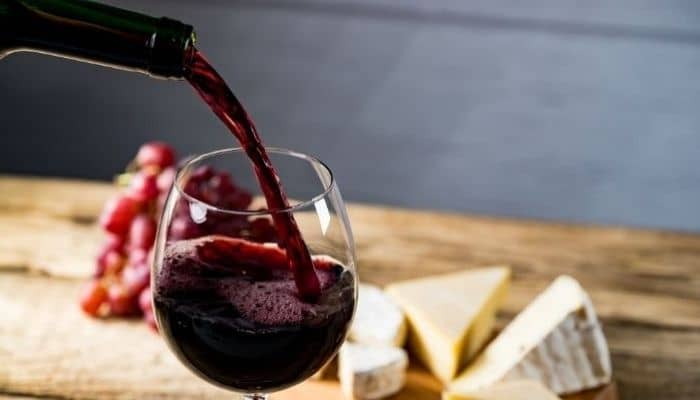 Red Wine is one of the best anti-aging drinks when taken in moderation.
According to researchers one of the most healthy qualities that red wine holds is making your skin glow by improving blood circulation.
Wine contains flavonoid, resveratrol, and tannin that protects and preserve collagen and elastin from internal damage.
This helps in slowing down the aging process reducing the fine lines, wrinkles and boosting sagging skin.
#7.

Tomatoes
Tomatoes have high water content and many vital nutrients for the body.
But what makes it to the list of best anti aging foods for younger-looking skinis the presence of lycopene.
Lycopene is a strong antioxidant that inactivates the skin-damaging free radicals and prevents aging and wrinkles making it the best food for wrinkles under the eyes.
In fact, studies also demonstrate as tomatoes hold the capacity of treating skin burns and sun-related skin diseases when taken in adequate quantity.
Other benefits:
Reduces open pores and blackheads
Rich in Vitamin C that promotes collagen synthesis and makes skin more elastic
To channelize the maximum benefits of tomatoes, grill them before eating.
On being grilled, tomatoes will release more lycopene.
#8.

Wild Salmon
Wild salmon is considered the best source of omega-3-fatty acids.
Omega-3-fatty acids carry many benefits for your skin. It helps prevent fine lines and wrinkles by keeping your skin supple and moisturized.
They also protect skin from external damage caused by UV rays.
Omega-3 fatty acids are also rich in anti-inflammatory properties that keep your skin from breaking out and reduce acne.
#9.

Bone Broth
Bone broth is a natural collagen booster as it has a rich amount of collagen present in it.
According to studies consuming collagen can help improve the collagen of your skin and also reduce the amounts of collagen breaking enzymes.
However, still more research is needed to conclude it for humans too, as the studies stating above fact were mostly animal-based.
Apart from that, eating meat-rich collagen and adding up some sources of Vitamin C sources in your dish can actually stimulate more collagen production.
#10.

Probiotics
According to studies, probiotics can protect the skin from external damage caused by UV rays.
Other strains of the same have been found effective in maintaining a healthy pH of the skin while also fighting free skin radicals.
However, most of the studies demonstrate specific strains of probiotics as healthy skin boosters which can be easily found in yogurts and fermented veggies.
#11.

Pomegranates
They are packed with ellagic, the compound that naturally prevents the formation of wrinkles.
According to researchers, ellagic can help in:
Preventing the breakdown of collagen
Protect your skin from UV inflammation
In short, it slows down the aging process, hence adding pomegranates to salads can be really helpful in giving your skin a healthy dose of benefits.
#12.

Walnuts
They have the most amount of antioxidants than any other nuts and also combine omega-3-fatty acids.
The whole combination works well for inflammation and fighting skin aging.
They also help the skin in maintaining homeostasis for better water retention and thermal stability.
Further, we have some clinical studies that show how including anti-aging foods for a man in a diet can help in skin structure.
Diet and Skin Aging – Nutritional Experts
A study was conducted to evaluate the skin composition, changes during skin aging, and diet management like foodborne antioxidants' role in delaying aging.
According to the review, important conclusions were drawn after studying through various literature and scientific studies based on the relationship between food and skin aging.
One of the major conclusions that helped identify the role of anti-aging foods highlighted the following facts.
Anti-aging ingredients relieve skin aging in three possible ways:
First, these ingredients enter the skin as precursors of skin components after being digested and absorbed by the blood.
Second, they relieve the skin from oxidative damage by eliminating free radicals and boosting the anti-oxidant levels.
Third, anti-aging components work as enzymes and inhibit the degradation of skin while maintaining the integrity of the skin.
Hence, a diet rich in the best anti-aging foods actually works both in and out in protecting your skin from aging and lines.
However, this review also highlighted the need for both external and internal care of the skin for preventing aging signs to show up.
Ways to Reduce Premature Skin Aging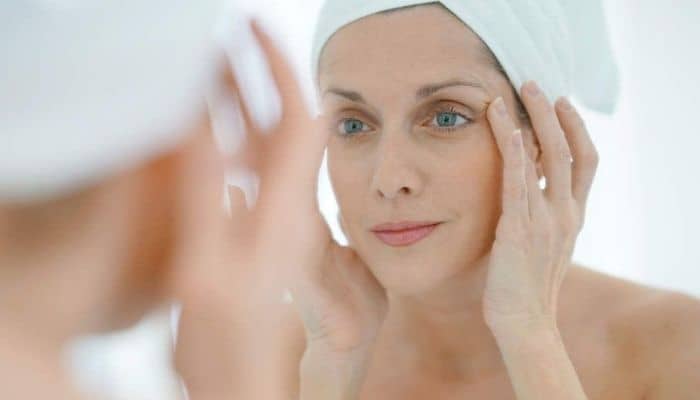 According to skin experts, just diet is not enough to protect your skin from premature aging!
It needs both internal and external penetration.
While internal penetration comes from the vital nutrients that you add up to your diet, external protection can help in the following ways:
#1.

Using Mild Face Wash
Always use a gentle formula for cleansing your skin as it's the most sensitive part of your body.
Also, avoid vigorous scrubbing as that can accelerate damage and aging.
#2.

Using Retinoids
Retinoids help in anti-aging as they prevent collagen damage.
There are many over-the-counter retinoid creams available which you can try. However, avoid mixing it up with benzoyl peroxide which people often use to treat acne.
#3.

Rich Face Cream
As you age, the glands present under the skin slow down their secretions and hence your skin starts becoming dry.
Experts suggest using rich base face cream to keep your skin moisturized and hydrated preventing any lines and wrinkles.
#4.

The SPF
Use a sunscreen that has its SPF higher than 30 to prevent any aging spots, wrinkles, and discoloration caused by exposure to UV.
Try using a more moisturizing SPF and avoid those sunscreens that contain alcohol.
#5.

Exfoliate weekly
The skin sheds dead cells to create new layers. However, this process slows down as you age making your skin look dull and old.
Hence, to clean out any buildup on the skin exfoliate weekly.
Conclusion
Improvement in skin health and aging with the change of diet is not a rapid result. It is a long-term process and must not be rushed.
Further, the effects of the foods on your skin also depend on your metabolism. Your metabolism breaks down these foods and makes them available for your skin.
For people with a slower metabolism, the results might show late, while for the ones with a good metabolism, diet usually starts reflecting.
Though you cannot control your metabolism to a great extent but try booting it with daily workouts and routines.
Apart from that, many such foods have low skin bioavailability and fail to show their maximum benefits.
For such foods, you can enhance their benefits by adding natural supplements.