Biotin Rich Foods to Add to Your Diet for Hair Growth | Hair-Care Tips
Allen Hicks
Struggling with split ends and hair loss?
Jamming up some nutrients in excess can bring your hair back to health. Just add Biotin-rich foods for hair growth in your diet and observe the magic.
Biotin is a super B Vitamin capable of converting food into energy. Interestingly, it has a prominent role in eye, hair, skin, and brain function. It also keeps your liver process in place.
Studies have shown the nutrients are directly associated with healthy and dense hair.
Research indicates biotin deficiency can trigger hair loss. Thus, it becomes important to have enough biotin in the diet to prevent the hair problem.
You may still ponder does biotin works or not? The same question is puzzling us as well.
In this blog, we have come with science-backed facts to uncover the truth. Let's begin the process involved by biotin-rich foods for hair growth to offer the benefits.
How Biotin Supports Hair Health?
Biotin improves metabolism. It creates glucose necessary for fuelling your body. Also, it creates the amino acids found in the human body naturally.
These compounds are essential for creating protein, which is necessary for developing healthy nails, hair, and skills.
Probably, this is the reason behind biotin-rich foods are popular for hair growth.
The nutrient helps in restoring the production of a protein called keratin. Hair, nails, and skin are made of protein only.
In other words, the more biotin, the more keratin, and the more keratin lead to healthier hair.
The relation is clear.
More studies and findings can further elaborate on the link between biotin and hair health.
Two studies from 2012 and 2015 explored similar effects.
Women having a marine protein supplement encompassing biotin experience hair growth in 90 or 180 days period. The biotin consumption also reduced hair loss or hair fall.
Another study from 2016 takes a peek at hair loss and biotin links. The participant had an almost 38% reduction in hair loss after the treatment of biotin deficiency.
Also, you need to keep in mind that biotin deficiency is rare.
The studies depict the effect of biotin in improving your hair health.  You may wonder how it benefits your hair.
Does Biotin Work for Hair Growth?
You can find thousands of experts preaching about biotin and hair growth. However, very little evidence is available to support the claims.
More research and studies can put light on how it works.
The accessible findings show biotins' role in the digestive process. It determines the conversion of consumed foods into energy.
Also, it has a key role in the making of amino acids, which is the building block of protein.
Your hair is also made of protein only, but a specific type called keratin. In this way, the macro-nutrient directly determines your hair health.
The nutrient has a specific role in the formation of your skin and nails as well.
When in greater consistency, you rejoice a luscious, smooth, and freeze-free hair. The issues like hair loss, split ends, breakage, dryness, etc., don't exist.  
On the contrary, inadequate biotin-rich foods in your diet can make you biotin deficient. This can trigger biotin deficiency.
In the beginning, it may not have a direct impact, but in the long run, it leads to major hair loss. Diet change can also stimulate such issues.
You can fight off the issue directly by having more of such nutrient-rich food.
The natural spike in biotin elevates the production of hair protein i.e., keratin. This results in better hair consistency and volume. However, such diet changes are rather slow, and significant differences are visible long after the use.
Instead, you can try a biotin supplement for instant results.
Various dermatologists have investigated the impact of biotin pills on hair.
They found a significant difference in the short-term use of the pills among participants. In the contrast, the long-term users have a major remarkable difference.
The entire discussion points toward one thing only biotin works for your hair. Though it directly does not impact the health of your locks but has a significant role in determining consistency and appearance.
While supplements offer quick results, at times they are unsafe for long-term usages. Thus, go for natural biotin-rich foods for hair growth.
With the natural boost in your biotin level, your hair health will improve remarkably.
Biotin-Rich Foods for Hair Growth
Biotin is a water-soluble vitamin easily found in natural food sources. Also famous as Vitamin B7, it prominently takes part in supporting many health benefits.
But the most buzzing trend of the year sees Biotin as an ingredient in many hair growth supplements and remedies!
That's totally not astonishing, as biotin has an essential role in aiding vital enzymes of our body to carry out healthy functions in our body important for hair and nails growth.
One of the most common reasons why experts find Biotin useful in healthy hair is its ability to metabolize protein for the synthesis of keratin.
Though they are commonly been used in the forms of supplements, ideally the best form of biotin comes from the following natural sources.
Biotin-Rich Foods Chart
Your hair is made up of keratin and fatty acids. These two components are produced by the proteins after metabolization.
But metabolizing proteins needs enough of biotin, as it has enough potential to break it down into the components your hair needs.
This makes the following biotin-rich foods, the Best Foods for Your Hair.
| | | | |
| --- | --- | --- | --- |
| Biotin-rich foods vegetarian | Amount of Biotin per serving | Biotin –rich foods non-vegetarian | Amount of biotin per serving |
| Sweet Potato | 2.4 mg of biotin per half a cup of cooked potatoes | Liver | Every three ounces of the liver (beef) serves 30.8 mg of biotin. |
| Almonds | 1/4th cup of almonds serves 1.5 mg of biotin | Eggs | One whole egg serves 10 mg of biotin |
| Spinach | 0.5 mg of biotin per ½ a cup of boiled spinach | salmon | Per three ounces of salmon, 5 mg of biotin is served |
| Broccoli | Hal a cup of broccoli serves 0.4 mg of biotin | Porkchop | 3.8 mg of biotin per three ounces |
| Cheddar Cheese | 0.4 mg of biotin per one ounce | Tuna | 0.6 mg of biotin per three ounces of tuna |
| Milk | 1 cup of milk contains 0.3 mg of biotin | | |
| Plain yogurt | 0.2 mg of biotin per one cup | | |
| Oatmeal | 0.2 mg of biotin per cup | | |
| banana | Half cup serves 0.2 mg of biotin | | |
#1.

Liver
To get that perfect biotin dosage, all you need to do is make yourself a slice of taco meat!
The main ingredient obviously is beef liver. Beef liver has not just got your biotin needs covered but also has a good source of high-quality protein essential for your hair.
Apart from that it also serves enough folate for a healthy heart.
#2.

Eggs
Organic eggs free of any chemicals are the best sources of biotin. They pack a whole bunch of nutrients including proteins and vitamins that boost your overall health.
For extracting the maximum benefits out of your eggs, make sure you eat the yolk part which concentrates most of its nutrients.
An ideal recommendation would be an organic salad dressed with egg yolk. Other nutrients that eggs serve you include zinc, selenium, iodine, and Vitamin A & D.
#3.

Salmon
Salmons are best taken with eggs as breakfast, salad as lunch, and veggies for dinner.
The best salmons to go for are the wild-caught ones as they don't have any added contaminants unlike the ones raised on farms which often contain mercury.
Apart from being rich in biotin they even serve as rich sources of omega-3-fatty acids good for your overall health.
#4.

Pork Chop
Just add up some slices of pork chop in your salad to give your body complete proteins.
Porkchop is famous as a rich source of protein and has been found helpful in boosting muscle tissues. They also serve a good amount of zinc.
#5.

Sweet Potato
Boiled sweet potatoes serve as the best form to extract some good amounts of biotin.
Apart from that, they are also rich sources of beta carotene and other carotenoids that help maintain a healthy ocular system.
#6.

Almonds
Just a handful of almonds every day is enough to support your biotin needs. They are also rich sources of Vitamin E and magnesium.
But people usually include them in their diet for their fiber content that aids in weight loss.
#7.

Tuna
Tuna is again a rich source of omega-3-fatty acids, biotin, and selenium that is not just healthy for your hair but also for your overall health.
You need to be cautious while choosing tuna, as they might be contaminated with mercury and other such agents. The best tunas are the ones caught wild.
#8.

Spinach
It has got a whole junk of nutrients and vitamins that keep you healthy.
They have got many health benefits like slowing the aging process and fighting diseases. But one of the major benefits is improving blood circulation as they have a high content of iron.
The best way to add spinach to your daily routine is by eating it either in form of salad or adding up some eggs.
#9.

Broccoli
Both raw and cooked broccoli serve as good sources of biotin.
They are also rich in Vitamin K and are often known as superfoods because of their high nutritional value.
#10.

Dairy Products
Some dairy products too serve as good sources of biotin along with supplying good amounts of protein for your body.
They are also loaded with calcium and Vitamin D that help fight bone diseases.
Some of the dairy products that you must include in your diet are cheddar cheese, milk, and yogurt.
#11.

Oatmeal
Oatmeal with almond butter and fruits is the best way to include a healthy amount of biotin in your daily routine.
Since they are whole grains they would be healthier for your daily activities.
#12.

Bananas
There are many different ways of adding bananas to your daily routine.
You can either slice them in your breakfast or mash them in your evening smoothie.
They serve as quite a good source of biotin and are even rich in potassium that boosts your energy.
Though all these food sources are rich in biotin you don't need to add up everything!
There is still an upper limit for daily intake of biotin that you shouldn't exceed.
How much Biotin do you need for healthy hair?
According to health experts, the adequate intake recommendation ranges as:
1 to 3 years – 8 mg
4 to 8 years – 12 mg
9 to 13 years – 20 mg
14 to 18 years – 25 mg
Adequate Intake of biotin range 30 mg for men and women who are 19 or above. This range applies to pregnant women too. While lactating women must take 35 mg of it daily.
However, it often becomes difficult for people to guess if they are taking enough biotin in a day.
To make sure that you are not falling prey to biotin deficiency, look out for the following signs.
Signs of Biotin Deficiency:
Dry and patchy skin
Brittle hair
Fatigue
Nausea
Muscle pain
Interruption of the sleep cycle
Cracking corners of the lips
Dry eyes
Burning sensations in hands or feet
Loss of appetite
If two or more symptoms match, you might consider adding more Vitamin B7 foods to your plate!
In case if even that doesn't work you might consider taking natural Biotin supplements for hair.
There are many such biotin supplements for hair available in the market in the form of pills and capsules.
However, make sure that you go through the ingredients of such supplements before adding them to your cart.
Though biotin supplements don't cause any harmful effects, yet there are chances of chemical-infused supplements causing side effects like nausea and vomiting.
Having said that, we know that Biotin benefits for hair are all about reducing hair thinning and promoting regrowth.
But what could be the mechanism of the whole process? Does it actually works that way!
There lie many confusions and the answers clearly lie among the studies and pieces of research.
Best Biotin for Hair Growth – Does It Really Work?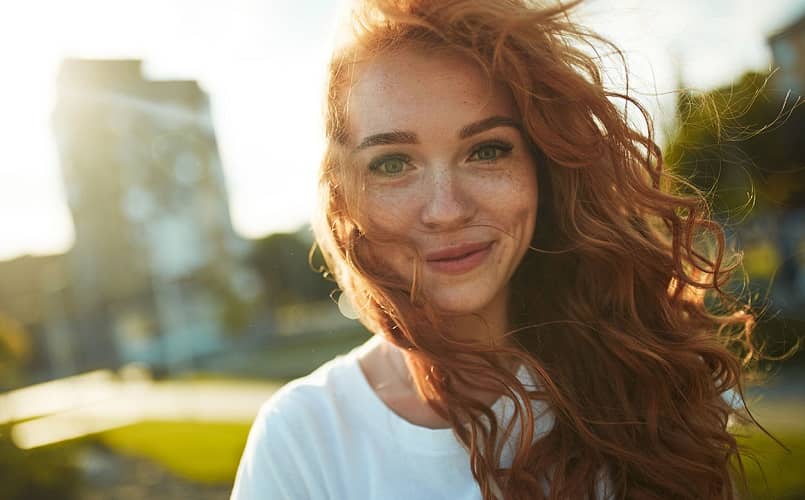 According to researchers, the basic pathway of biotin acting up on hair regrowth is through the formation of keratin.
Keratin is the basic protein that makes up your hair. It is a by-product of protein metabolism, and hence the higher the protein levels the more keratin your body has.
Biotin here is a vitamin that supports enzymes to metabolize protein and release fats and keratin that your hair needs.
Key Studies:
Study I
This was a 3 month randomized, double-blind, placebo-controlled study that evaluated the effect of a protein complex containing biotin on hair growth.
It was conducted on women aged between 21 – 65 who had hair thinning issues associated with various factors like stress, hormonal imbalance, or poor diet.
They were asked to continue with the same lifestyle practices along with following the same diet and medications throughout the study.
They were randomly given a protein complex containing biotin and other nutrients, and a placebo.
Approx. 2 cm X 2 cm of the area was selected on their scalp to note results.
The results observed were:
Usage of the complex for 90 days showed improvement in the number of terminal hair on selected areas.
The shedding has decreased
Quality of hair improved
Study II
This study was conducted to evaluate the efficiency of an oral supplement (biotin) in improving hair growth among women with issues of hair thinning.
It was again a double-blind placebo-controlled study.
Random administration of placebo and the supplement was done after evaluating 4cm X 4 cm area of the scalp.
The medication was given twice daily for 90 days.
Final results showed:
Scalp coverage improved
Hair volume was better
The thickness of hair increased
Strength of hair increased
Both the studies call out biotin as an effective way to promote hair growth.
However, not just biotin foods for hair growth are enough; you must also take preventive measures for healthy hair.
Some of these preventive measures would obviously be preventing biotin deficiency. Other could be some general remedies and tips that the following section handles.
Preventing Hair Thinning
#1. Regular washing
Keeping your scalp healthy and clean protects hair damage and further hair loss.
But always use a mild shampoo when cleaning your scalp.
Harsh formulas can dry up your scalp making your hair brittle.
#2. Massaging scalp
You can use any biotin-rich hair oil or even coconut oil to massage your scalp.
Massaging improves the blood circulation around your scalp and helps in a better supply of nutrients to your hair.
This strengthens the follicles and reduces thinning of hair.
#3. Gentle Styling
Women often tie up their hair in tight braids and ponies.
This can potentially lead to more hair breakage than ever. Hence, make sure you style your hair gentle enough that it's not so harsh for the follicles.
#4.  Adding Saw Palmetto
According to a journal dating back to 2004, 60% of participants who took saw palmetto in a study showed improvement in hair growth.
This makes it food for hair growth and thickness and you can include it in your diet.
Conclusion
Biotin is a popular ingredient for many supplements promising hair growth. However, there has been a clash of opinions among the population regarding if biotin works or not.
On analyzing different studies and reviews we came across two prominent studies that find Biotin as an active hair-boosting formula.
This forms the basis of the huge demand for biotin in the market for hair growth formulas. However, not all formulas available in the market use biotin in the best form.
Hence, it is best to extract the vitamin from natural sources.
Yet, make sure you don't overdose yourself with biotin or any other vitamin, as there have been, many cases of vitamin toxicity.